Cèilidh Weekend
Cèilidh Weekend Flickr Gallery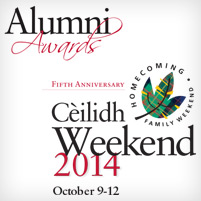 Carnegie Mellon University invited the exploration of innovation during this year's Cèilidh Weekend, which took place Oct. 9–12.

From the School of Computer Science's (SCS) 25th anniversary to artistic performances and recognition of outstanding alumni, Cèilidh is about visiting family and friends and honoring Tartan pride.

Spotlight events for SCS silver anniversary were:
A Conversation with Serkan Piantino (CS'04), Facebook New York in Rashid Auditorium, Gates & Hillman centers Since 2007, Serkan Piantino (CS'04) has been the site director for the Facebook office in New York City. Piantino and SCS Dean Andrew Moore explored the vision for the School of Computer Science, Carnegie Mellon and the world.
Panel Discussion: Robotics at the Tipping Point in Rashid Auditorium Moderated by Robotics Professor Howie Choset, the panel featured faculty members and alumni James Gosling (CS'83), the inventor of Java and chief software architect at Liquid Robotics and Kevin Dowling (CS'83, '94, '97), vice president of engineering at 4Moms.
Panel Discussion: The Next 25 Years of Computer Science in Rashid Auditorium Moderated by Peter Lee, corporate vice president and head of Microsoft Research and former CMU faculty member, the panel discussed the future of computer science at Carnegie Mellon and beyond. Panelists included Severin Hacker (CS'09, '14), co-founder and CTO at Duolingo, and Emma Brunskill, assistant professor of computer science, who is working on autonomous agents that learn to interact with people.
In addition, other highlights from the weekend included:
Alumni Awards Ceremony & Reception in Kresge Theatre & Great Hall, College of Fine Arts The CMU Alumni Association honored outstanding contributions by alumni, students and faculty to the university and the world at large at this university-wide celebration.
School of Drama Performance: "Seven Guitars" in Philip Chosky Theatre, Purnell Center for the Arts Pittsburgh-born August Wilson's "Seven Guitars" shines a light on the African American male's fight for identity and self-worth in the face of societal and personal obstacles.
Cohon University Center Expansion Celebration in tent, near Cohon University Center Circle Student performers and members of the university community celebrated the coming of 62,000 square feet of additional space to the CUC. Visit the CUC Addition website to learn more.
Scotch'n'Soda's 7th Annual Charity Cabaret in Rangos Hall, Cohon University Center Proceeds will benefit the Alumni Theater Company, a Pittsburgh based nonprofit organization bringing theater to young artists growing up in an urban environment.
President's Address in Rangos Hall, Cohon University Center Dr. Subra Suresh gave the President's Address to explain what lies ahead for CMU.
Carnegie Mellon Symphony Orchestra in Carnegie Music Hall, Oakland Under the direction of guest conductor Barry Douglas, the CMU Philharmonic performed Haydn's Symphony No. 88, Beethoven's Piano Concerto No. 2, featuring Douglas as soloist, and Mendelssohn's Symphony No. 4.
Related Links: Cèilidh Weekend Schedule | Alumni Awards Press Release | SCS25 Registration
---