Sparking Inspiration: TEDxCMU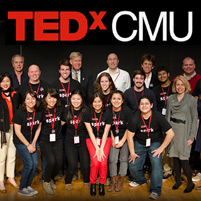 The 2013 TEDxCMU Team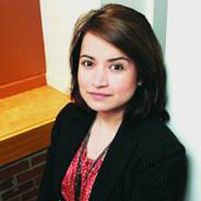 Ketaki Desai
Some of the brightest minds at Carnegie Mellon University and beyond gathered together on campus recently, ready to take their turn on stage. More than 450 attendees appreciatively took it all in, at the fourth annual
TEDxCMU
event.
This year's theme was 'Spark.'
"Our goal is to inspire each and every one of our 450-plus attendees — to create a spark of ideas that will spread, and ignite people's minds with brilliance," said Ketaki Desai,
master of public management
student at CMU's Heinz College, and president of this year's event.
Packed into McConomy auditorium, the early-morning crowd welcomed master of ceremonies Steven Das (E'10) with cheers and whistles as he opened the day. He reminded the group that revolutionary ideas begin as mere sparks, then turned the floor over to Dr. Jonathan Clark, associate professor of neurology and space medicine at Baylor College of Medicine. Clark was part of the team that engineered the first human free-fall to break the speed of sound.
The first
TED
conference was a 1984 California function aimed at sharing the best ideas in 'T'echnology, 'E'ntertainment and 'D'esign. It has since grown into a movement with global scope.
TEDx events — 'x' signifies independently organized — are designed to recreate the unique TED experience where speakers are tasked with giving "the talk of their lives," on a local level.  
"TED videos have always inspired me; they make me think differently about our world and the problems we face," said Desai of her decision to chair the university's event. "They make me want to get up and do something about the issues."
Desai and her
team
were particularly excited to be organizing an event at Carnegie Mellon.
"We have the incredible fortune of studying in an institution that encourages students to develop ideas from concept to completion," she explained. "I have never seen students who are more passionate, professional and committed than those coming out of our school; this is the ideal ground for a TEDx event."
The team built their list of speakers based on several factors, including subject matter and passion. They assembled both men and women from diverse fields that would best represent the CMU population.
Featured speakers were:
Jonathan Clark: medical director of the Red Bull Stratos Project and associate professor of neurology and space medicine at Baylor College of Medicine.
Jenn Lim: CEO and chief happiness officer of Delivering Happiness, a company co-founded with Tony Hsieh (CEO of Zappos.com) to inspire science-based happiness, passion and purpose.
Darell Hammond: founder and CEO of KaBOOM!!, a not-for-profit based in Washington, D.C. that has raised $200 million, a million volunteers, and led construction of 2,200 playgrounds.
Judy Swan: associate director of the Princeton University Writing Program where she works with 18 academic disciplines.
Rodrigo Arboleda: chairman and CEO of One Laptop Per Child Association, a not-for-profit that has distributed more than 2.7 million laptops to children in 41 countries.
Eve Picker: CEO of cityLAB Pittsburgh, a non-profit dedicated to city-wide revitalization issues.
Linda Benedict-Jones: curator of the Carnegie Museum of Art and teacher in the history of photography at CMU.
Jeff Ferrell: author and professor of sociology at Texas Christian University, USA, and visiting professor of criminology at the University of Kent, UK.
Robert Daley: CEO of 4Moms, co-founded with Henry Thorne, a Pittsburgh- based company that makes high-tech baby products sold in more than 30 countries.
Rebecca Alford, student speaker: CMU freshman whose efforts have developed into cutting-edge technologies to interpret the human genome.
Stephen Tonti, student speaker: CMU senior directing major and president of CMU's Filmmaking Club.
Steven Das, master of ceremonies: CMU Electrical and Computer Engineering alumnus focused on seasteading, a movement to build floating, ocean-based cities.

Also enjoyed were performances by The Originals, a CMU all-male a cappella group, and Chinmayi Bhavanishankar, a Tepper School of Business MBA student trained in South Indian classical dance.

"There's a tremendous amount of work that goes into this making this event successful," said Desai. "And the most incredible thing for me has been the dedication of my team — we have been working for a year and I am always amazed at the commitment we all share. Everyone wanted to share their inspiration with the rest of CMU and Pittsburgh."

The TEDxCMU talks were streamed live and are archived on TEDx's YouTube channel.

How were you inspired? Tell us below, or on Facebook or Twitter.
Related Links: TEDxCMU | TEDxCMU on Facebook | Heinz College | $1M Case Challenge Winners
---