Garrett Named CIT Dean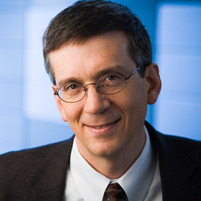 James Garrett
Carnegie Mellon University has named James H. Garrett Jr., the Thomas Lord Professor of Civil and Environmental Engineering (CEE), dean of the College of Engineering, effective Jan. 1.

A member of the CIT faculty since 1990 and a CMU alumnus, Garrett (CE'82, '83, '86) has demonstrated leadership in research and education initiatives both with the university and internationally.

"We know Jim's broad experience in research, teaching and creating meaningful partnerships with business and industry make him an excellent choice to head our outstanding College of Engineering," said Mark S. Kamlet, provost and executive vice president of CMU.

He was head of the top-ranked department of CEE and co-director of the Pennsylvania Smarter Infrastructure Incubator (PSII), which is a research center aimed at creating, applying and evaluating applications of sensing, data analytics and intelligent decision support for improving the construction, management and operation of infrastructure systems.

Working closely with colleagues from IBM, Garrett established the IBM Smarter Infrastructure Lab, a research facility within the PSII.

During his tenure as CEE department head, an excellent group of faculty and staff have been hired and well mentored. The department successfully promoted all of its faculty. Major investments in the educational and research facilities were made. And the department rankings remain very strong.

Garrett also has been very successful in adding significant endowment for several named graduate fellowships, graduate travel support, strategic initiatives and a faculty chair honoring former Provost and CEE Professor Paul Christiano.

"For many years, Jim has been a leader in research that has had an impact on the world we live in," said Kamlet.

"He has been instrumental in launching research initiatives committed to creating fast, reliable monitoring systems to collect and process data about a myriad of complex networked infrastructure systems critical to both the nation's security and daily commerce."

Garrett said, "I am honored and excited to have been selected to be the next dean of CIT. The College of Engineering is thriving. I greatly look forward to engaging with the entire CIT community, and the greater university community, in discussions of existing and new education and research initiatives in CIT."

He added, "I also plan to explore the initiatives that will improve the quality of life for faculty, students and staff and strengthen the college and university. I look forward to working together with all of you to take us to a new level of success."
Related Links: Read the Press Release | Making Cities Smarter | Garrett Receives Professorship | College of Engineering | Civil and Environmental Engineering | Institute for Complex Engineered Systems
---