CMU Welcomes President-Elect Dr. Subra Suresh
CMU Welcomes President-Elect Dr. Subra Suresh
View slideshow of event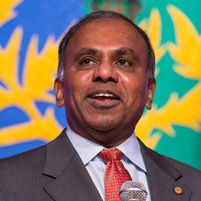 Dr. Subra Suresh
The Carnegie Mellon University community welcomed Dr. Subra Suresh, his wife Mary, and their daughters Nina and Meera, during an event held yesterday on the Pittsburgh campus.   

The CMU Board of Trustees recently named Dr. Suresh as the university's ninth president, succeeding Dr. Jared L. Cohon on July 1st.

CMU students, faculty, staff and alumni from around the world joined the event via webcast. Highlights of the day included video greetings from CMU students from Australia, Portugal, Qatar, Rwanda and Silicon Valley, prompting Dr. Suresh to note that the "sun never sets on Carnegie Mellon."

HERB, a CMU robotic butler from the renowned CMU Robotics Institute, was "on hand" to welcome Dr. Suresh with a firm handshake on behalf of all the non-humans that make up this unique university community. HERB was also representing the many innovative research projects CMU is noted for in the sciences, technology, business and the arts.

Dr. Suresh thanked the community for the warm welcome he has received since his appointment on February 5th. He extended his congratulations to Dr. Cohon on "a spectacular tenure," and offered a personal thank you "to both Dr. Cohon and his wife, Maureen."

"I also want to thank Provost Dr. Mark Kamlet for his outstanding service for the past 13 years. I look forward to working more closely with him, and getting to know the CMU community."
 
The President-elect shared his plan to begin his tenure with "a listening tour for a number of months," which includes Open Forums where students, faculty and staff will have the opportunity to share their perspectives.

He concluded his remarks by saying "As I get to know this community better, I'm confident that we have a common wish and goal: we all very firmly believe that Carnegie Mellon is a great institution, but we also firmly believe that it is an institution that has the ingredients and the potential for even more greatness. I very much look forward to working with you to achieve that."
 
Dr. Suresh currently serves in the Obama administration as Director of the National Science Foundation.  According to Ray Lane, Chair of CMU's Board of Trustees, "a 17-member search committee selected Dr. Suresh from hundreds of candidates as uniquely qualified to lead CMU." His predecessor, Dr. Jared Cohon, led the university to unprecedented growth during his 16-year tenure.  

Dr. Cohon thanked all the members of the search committee, led by CMU Life Trustee James Rohr, adding that "I am absolutely determined to ensure that Dr. Suresh's transition to CMU is as smooth and successful as possible."

The search committee included broad representation of the university's board of trustees, esteemed faculty and alumni across all colleges and schools. The faculty committee was chaired by Anthony Rollett, former chair of the Faculty Senate and professor in the Department of Materials and Engineering.
 
To honor the two leaders, the university's Mascot, Scotty, presented numbered Tartan Team jerseys to the current President and President-Elect representing their place in CMU presidential history — numbers 8 and 9, respectively.
Related Links: Welcome Dr. Suresh and Family | About the President-Elect
---