Language Arts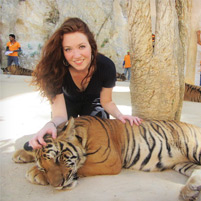 Sarah Ceurvorst
Sarah Ceurvorst (BXA'13) hopes to enable students in Thailand to express themselves through language and art.

Ceurvorst is one of six recent Carnegie Mellon University graduates who have received grants to research, study and teach across three continents through the Fulbright U.S. Student Program.

In addition, a rising sophomore also has been selected to participate in the U.S.–U.K. Fulbright Commission's Queens University Belfast Summer Institute.

"Art makes a new language more approachable," she said. "It's a great catalyst for learning."

As part of the program, Cuervorst received an English Teaching Assistantship (ETA) in the country's Maha Sarakham Province where she'll work with students in grades 7–12.

"When you introduce something like art, where students can release their thoughts and feelings through another form of expression, it makes them more interested in learning the new language — and it builds their confidence that they can actually do it," she said

Ceurvorst studied in Thailand in 2011 and can't wait to get back.

"It wasn't until I went to Thailand that I felt a genuine longing to be part of something larger than my own world," she said. "Every piece of art I have made since I returned has been inspired by this desire to connect with other people and cultures."

While her purpose will be to teach English while she is there, Ceurvorst feels something greater is at work.

"I am very passionate about using this opportunity to be a cultural ambassador," she said. "I just completely love being in Thailand. It communicated with me on some deeper level and opened my world to make it 10 times larger. Because Thai is not widely spoken, I want to take this place, which has given me so much new perspective, and make these students' worlds larger by enabling them to express themselves to a wider audience."

The U.S. Department of State, Bureau of Educational and Cultural Affairs, sponsors the U.S. Student Fulbright Program to "increase mutual understanding between the people of the United States and the people of other countries."

Carnegie Mellon has been home to 42 Fulbright student scholars since 1994.

This year marks the highest number of Fulbright ETA applicants from CMU have won in a single year.

"It's pretty extraordinary that we have three ETAs, particularly given that our university doesn't have a school of education. Our students are competing against peers who are majoring in teaching," said Helen Wang, 2012–2013 Fulbright adviser for CMU's Fellowships and Scholarships Office and associate director of Student Life for First-Year Houses.

In addition to Ceurvorst, this year's Fulbright scholars include:
Christian Aponte (DC'13) received an English Teaching Assistantship in Brazil;
Missy Dunaway (BXA'10) received a study/research grant in Istanbul and Konya, Turkey;
Kimberly Josephson (DC'13) received an English Teaching Assistantship in Argentina;
Carolyn Supinka (BXA'13) received a study/research grant in Pondicherry, India;
Minghui Zhang (E'13) received a study/research grant in Beijing, China; and
Kaytie Nielsen (BHA'16) received a Fulbright award to study at Queens University Belfast Summer Institute in Northern Ireland.
Photo: Sarah Ceurvorst petting the tigers at Wat Pha Luang Ta Bua, a Theravada Buddhist temple in Kanchanaburi, Thailand.
Related Links: Read press release | Fulbright U.S. Student Program
---