CMU at Summer Davos 2013
Driving Smart Development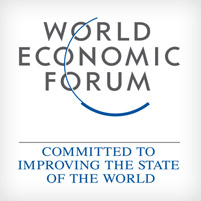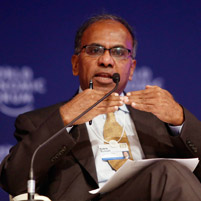 Dr. Suresh speaks at Summer Davos 2013
Gathered in early September were more than 1,500 top minds from 90 countries, sharing strategies and solutions regarding pressing global issues. These business, government and academic leaders were attending the World Economic Forum's Annual Meeting of the New Champions (Summer Davos) in Dalian, China.

Among them were more than a dozen distinguished participants with Carnegie Mellon University ties: CMU President Subra Suresh, professors Justine Cassell and Erica Fuchs, eight alumni — three of whom are trustees — and several parents of current or former students.

The World Economic Forum is an independent, not-for-profit organization headquartered in Geneva, Switzerland. Established in 1971, it gathers global leaders with the goal of "improving the state of the world." Members represent the world's top 1,000 companies, who work closely with leaders from academia, government, religion, media and the arts.

The Forum's Annual Meeting — its largest — is held in Davos, Switzerland, earning it the nickname 'Davos,' while other events are held each year on nearly every continent. This summer's meeting in China was the seventh such annual gathering, and was often referred to as 'Summer Davos.' The 2013 theme was 'Meeting the Innovation Imperative.'

CMU is one of only 25 universities in the world — 11 in the U.S. — invited to join the Forum's Global University Leaders Forum and Dr. Suresh serves as CMU's representative.
He participated in the following sessions: 1) Driving Smart Development — watch video, 2) Fostering Innovation-Driven Entrepreneurship, 3) Global Agenda on Science, Technology and Innovation: Setting Priorities and 4) Future of Universities: Role of Technology, Knowledge Creation, Values.
The World Economic Forum added one quote from Dr. Suresh to its Top Ten Quotes list from the event: 
"There is a lack of resources for highly talented young people to get to the destinations where talent can be put to use," Dr. Suresh said.
Two faculty members joined Dr. Suresh in representing the university: 
Justine Cassell, the Charles M. Geschke Director of CMU's Human-Computer Interaction Institute, serves as the head of the Global Agenda Council on Robotics and Smart Devices. These councils form a community of over 1,500 experts in their fields of academia, business, government, international organizations and society. Cassell moderated 'Strategic Shifts in the Digital Ecosystem' and participated in 'Future of Universities.'

Erica Fuchs, CMU associate professor of Engineering and Public Policy, was named a member of the event's Community of Young Scientists and spoke at the session 'Strategic Shifts in Manufacturing Ecosystems.' She was honored as one of only 40 scientists under the age of 40 selected to contribute their up-to-date knowledge from various scientific fields. The Young Scientist awards were presented at the meeting. Watch video »

In addition, two companies led by CMU alumni were honored by the Forum as 'Technology Pioneers.' Eric Giler (E'77), a CMU trustee, is CEO of wireless electricity technology developer WiTricity Corporation. Matt Rogers (E'04,'05) is a founder of startup Nest Labs, creator of the energy-saving, programmable Nest Learning Thermostat.
Related Links: World Economic Forum "New Champions" 2013 Report [.pdf] | 2013 CMU at World Economic Forum | Global University Leaders Forum | Erica Fuchs' Forum Blog | Dr. Subra Suresh
---