An Alumnus to Watch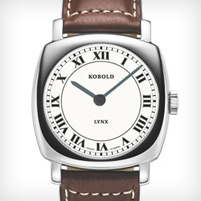 Kobold Lynx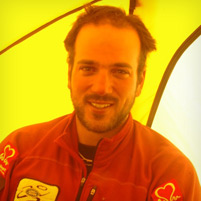 Michael Kobold
Michael Kobold's (DC'01) life was touched by instrumental Carnegie Mellon University mentors before he arrived as a student. Today, as founder and CEO of Kobold Expedition Tools, a successful high-end watch and knife manufacturer, he's still impacted — and still grateful.

"Without Carnegie Mellon, I would not be where I am today," stressed Kobold. "We had the chance to move the company anywhere, and I said, 'No, I want to stay in Pittsburgh because of the connections I've built at CMU.'"

Kobold Expedition Tools offers finely crafted mechanical timepieces, retailing from $2,500 to $25,000 and purpose-built knives ranging from $500 to $1,500. Loyal customers range from adventurers to politicians and celebrities.

It all began when Nobel laureate and CMU professor Merton Miller was a guest of Kobold's family in Germany. Young Michael was deciding on college.

"Professor Miller said, 'Don't apply anywhere else, just apply to Carnegie Mellon and tell them I sent you,'" said Kobold of the encounter that would soon bring him to the U.S. and CMU.

He'd been bitten by the entrepreneurial bug during high school, founding a charitable venture that sold candy to fund school trips for less fortunate classmates. Once at CMU, he immediately threw himself into entrepreneurship classes led by Jack Roseman, then the John R. Thorne Professor of Entrepreneurship, and Robert Culbertson, Adjunct Assistant Professor of Entrepreneurship.

Fascinated with mechanical watches — "I love that they're man-made and not battery-powered" — Kobold announced his intention to start the company during Roseman's first class.

Intrigued, the professor offered his support and the company grew as Kobold enrolled each semester. Roseman still serves as a company advisor while Culbertson invites Kobold to guest lecture each year.

Other influential CMU figures included Nobel laureate Finn Kydland, then a CMU economics professor. Kobold enrolled in Kydland's upper level course while still a freshman.

"I didn't know how university works, that you took prerequisite courses to move up," said Kobold. "But he was just wonderful."

The hard-working Kobold graduated in three years, and despite his industrialist father's expectation that he join the family business, opted to nurture his fledgling company.

Today, Kobold Watch devotees include notables like Bill Clinton, Leonardo di Caprio, Sir Ranulph Fiennes, Tom Cruise and Bruce Springsteen. One customer and friend was the late James Gandolfini, who appeared gratis in a Kobold ad campaign. Upon Gandolfini's recent unexpected death, Kobold served as family spokesperson and accompanied the body back to the U.S. from Italy.

Kobold recently expanded company operations into Nepal, training two Sherpa guides as watchmakers in thanks for saving his wife's life during their 2010 Mt. Everest climb. While at base camp, mulling over housing options via the Internet, the pair purchased a large farm in Amish country an hour north of Pittsburgh, moving company headquarters with the family.

Kobold still designs all products, though Kobold Expedition Tools now employs 16 and produces approximately 1,000 timepieces and 200 knives per year. Later this year, Kobold plans to introduce a line of exclusive leather accessories and handmade fountain pens.

"My definition of success is how much value you create for both your customers and yourself," explained Kobold. "We have an extremely strong following — something other companies don't have. We got it just by being ourselves, by loving what we do and by taking our product and our customers seriously."

"And it all started at Carnegie Mellon. Without CMU and the fostering I received, I would not be in business."
Related Links: Tepper School of Business | Dietrich College of Humanities and Social Sciences | Kobold Expedition Tools
---