6 Years Ago Today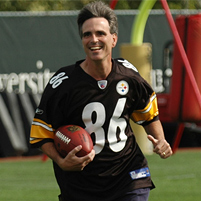 Randy Pausch
It was Sept. 18, 2007, one month after he was told by doctors that he had three to six months to live following a recurrence of pancreatic cancer.

Carnegie Mellon University alumnus and computer science professor Randy Pausch presented his last lecture called "Really Achieving Your Childhood Dreams" to a packed auditorium on the Pittsburgh campus.

A video of the moving and often humorous talk recounted his efforts to become a professional football player, float in zero gravity and develop Disney World attractions.

In the process, he shared his insights on the importance of overcoming life's obstacles, enabling the dreams of others and seizing every moment.

CMU's Anne Witchner Levin (DC'73) discusses why the lecture, which has since been seen by millions worldwide, and the book that followed, a New York Times bestseller, remain relevant today.

"There is a simple elegance to the book. It's so accessible," said Levin, CMU's assistant dean of student affairs, who has sent copies of the book to incoming first-year students every summer since its publication.

"'It's relevant on so many levels. Randy was an important part of the fabric of the university and Jeffrey Zaslow, who co-wrote the book, was a devoted alumnus long before 'The Last Lecture.' But beyond that, the questions Randy brings up are important for teens in transition to look at and think about," Levin explained.

Students still mention Pausch's lecture as their inspiration for applying to CMU. Faculty- and staff-led discussions of the book during Orientation Week afford students the opportunity to talk about important issues.

"At CMU you can take risks, and it's okay. The book and the lecture talk about that in a variety of ways," Levin said.

Pausch, who passed away in 2008, co-founded CMU's Entertainment Technology Center with then School of Drama professor Don Marinelli and is regarded as a pioneer in computer science education for leading researchers in the creation of Alice, a revolutionary way to teach computer programming to first-time students.

Pausch was widely respected in academic circles for a unique interdisciplinary approach: bringing artists, dramatists, designers and computer scientists together to break new ground by working in collaboration — a hallmark of CMU.

"The book is a great way for us to welcome new students into the Carnegie Mellon family," Levin said.
"His message is enduring," she added. "Achieving your childhood dreams is never going to go out of fashion."
Related Links: School of Computer Science | The Last Lecture | Entertainment Technology Center | Alice | Building Virtual Worlds | Zaslow's Story
---