Innovation City at SXSW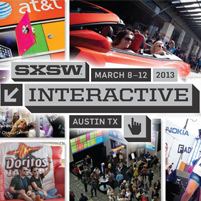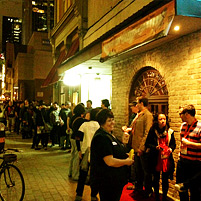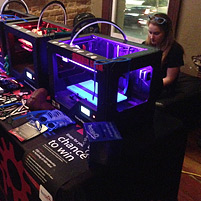 Scenes from the SXSW festival
There were hundreds of parties during this year's South By Southwest Interactive (SXSW) festival in Austin, Texas, but only those with a badge and a special connection to Carnegie Mellon University got to experience a night of futuristic tech, innovative robotics, cutting-edge startups and ubergeek DJs.

Sponsored by CMU and the Pittsburgh Technology Council, the Innovation City event showcased students from CMU's Heinz College, Human Computer Interaction Institute (HCII) and Entertainment Technology Center (ETC), Pittsburgh tech firms and entertainment ventures, and other technology groundbreakers. (It also promised to transport attendees "to the world of tomorrow, where there's a GyroCopter on every lawn and a computer chip in every brain!")
   
Supporting sponsors at the event, which was held at Meduse Lounge in downtown Austin, were AlphaLab, The Resumator, and Steeltown Entertainment Project. Innovation City was funded by the Pennsylvania Department of Community & Economic Development (DCED), the Sprout Fund, and the Claude Worthington Benedum Foundation.

"In my experience the best parties are the right mix of the seemingly wrong people, and this one definitely delivered," said CMU alumnus Fritz Myers (CFA'04), who attended SXSW to promote the soundtrack for his film "Sushi Girl." "I was very glad I came because it was an opportunity to talk with a lot of technical and business people who are normally outside of my sphere."

The club quickly reached capacity. Makerbot 3-D printers were busily churning out guitar picks and glasses with no lenses for the crowd gathered around them, but a dance floor quickly formed as the Pittsburgh-based "time-traveling super DJ duo" Tracksploitation took the stage. Behind transparent touchscreens, Jordan Taylor (aka JCT45) used a Wiimote and the "guts" of a Wii Nunchuck attached to a glove to change the tune with every flourish of his hand, while his partner Joe Kennedy (aka Professor ASAP) played a Misa Digital Kitara — a MIDI controller and duel synthesizer in guitar form.

Pittsburgh-based companies like BodyMedia,  WebKite, and Paul Michael Design offered unique giveaways and interactive activities, and representatives from rustbelt innovation advocacy group RustBuilt.org were on hand to help promote the city.

"It's exciting to live and work in Pittsburgh right now," said Heinz College's director of online strategy Brad Stephenson, who worked with PTC officials to plan the event. "There is so much happening here — from startups to the arts to the film industry to community development. The city's star is rising on a global scale, and CMU is obviously a big part of that."

Presenting the innovations of Pittsburgh and CMU to the broader SXSW audience seemed like a perfect fit for a conference that featured Elon Musk, CEO of rocket development for SpaceX, as a keynote speaker. The topic of robots weren't out of place at a party that promised portals to other dimensions (subject to availability), and showcased cutting-edge technology ready to the change the world.
Related Links: SXSW.com | Heinz College | Human-Computer Interaction Institute | Entertainment Technology Center | Pittsburgh Technology Council
---