Influencing Architecture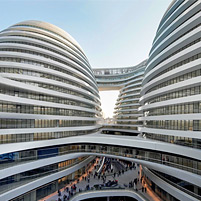 Galaxy Soho, photo by Hufton + Crow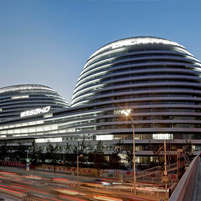 Galaxy Soho, photo by Hufton + Crow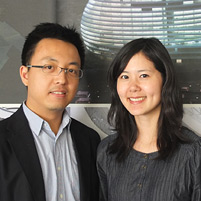 Eugene Leung & Lillie Liu
It seems like only yesterday that Carnegie Mellon University alumni Eugene Leung (A'03) and Lillie Liu (A'02) were pulling an all-nighter with their classmates to prepare for a final architecture presentation.

Now, they are senior and lead architectural designers at the London-based Zaha Hadid Architects (ZHA), pushing the boundaries of their field as they create transformative spaces that work in sync with their surroundings.

"Like Carnegie Mellon, Zaha Hadid Architects is a culturally diverse workplace that encourages and fosters creative thinking," Eugene said of the London-based firm.

Their latest project, called Galaxy Soho, is a 330,000-square meter office and retail complex situated in the heart of Beijing's central business district.

"It has four continuous, flowing volumes that coalesce to create an internal world of continuous open spaces," Eugene explained. "As architectural designers, we were involved from the project's schematic design phase to the construction administration phase. Our role was to deliver the project from conceptual stage to a buildable stage, working as part of the core team in ZHA and collaborating with local architects, consultants and contractors."

Galaxy Soho is important because, first and foremost, it has become a landmark in the heart of Beijing's Central Business District.

"It has brought dynamism to the Central Business District," said Lillie. "And secondly, it also demonstrates the firm's artistic and technical capability of delivering complex-shaped, large scale projects in China."

The now husband-and-wife pair says that during their interviews and the hiring process, the firm was looking for both artistic and technical abilities.

"These two skills can't exist without one another," Lillie said. "Nowadays, our organizational and decision-making skills are also called into use."

Working closely with award-winning professors, such as Art Lubetz, during their time at CMU left a lasting impact on them.

"Art is a vigorous teacher who expects his students to think intellectually in order to explore the intangible qualities of architecture. He leads a tough but incredibly rewarding design studio," Eugene said.

Lillie noted that, overall, CMU's Bachelor of Architecture program provided a diverse, well-balanced education.

"It covered areas such as design, urban planning, mechanical/structural systems, building performance, and social and economic development. It provided the young architect with the skills needed to successfully collaborate with people of other professions, in an increasingly multi-disciplinary field," she said.

"Every project needs its own unique design approach, so our work seldom gets repetitive," Eugene added. "Our education enabled us to engage future challenges with a solid foundation, which helps you to make informed decisions and adapt for the future. This is the main reason why we think CMU shines."
Related Links: College of Fine Arts | School of Architecture | Zaha Hadid Architects
---