Honor, Courage, Commitment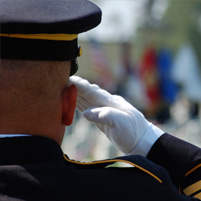 Lieutenant Timothy Leonardi (TPR'13) was selected from over 300 instructors in the United States as the First Place Most Outstanding U.S. Navy NROTC Instructor in 2012 by the National Defense Industrial Association (NDIA).

On this Memorial Day Weekend, Leonardi, who is second in command of the NROTC (Naval Reserve Officers Training Corps) at Carnegie Mellon University, reflects on the link between the past and the present.

"A required class in the NROTC unit is Seatime Navy Marine Corps History 101, and we believe very deeply in it," said Leonardi. "One, we like to learn from our mistakes. It's very important to see where we could have done better, and it's also important to see where we succeeded."

He added, "And an equally important part is to learn the famous or not-so-famous stories of the people who have given their lives for their country."

Leonardi serves as Acting Executive Officer for the NROTC at CMU. He is also a senior class adviser and mentor to students in addition to his duties as an E2C-Hawkeye naval flight officer.

"Mentorship is definitely a focus of my job. The real reason we're here as naval officers is to mentor midshipmen. Our commanding officer would not have nominated me for NDIA award if he didn't feel I exceeded the standard," Leonardi said.

In addition to all of the support and guidance he provides during class, Leonardi answers his phone regardless of the time of day or night.

"Sometimes it's a crisis situation, but sometimes it's just a simple request for reassurance," Leonardi said.

As a naval flight officer, Leonardi is particularly proud to have played a part in graduating the first female naval aviator from the CMU NROTC unit.

"She didn't really know it was even an opportunity for her. She was a math major and she didn't know she could even fly," said Leonardi. "The day that she passed her exam that allowed her to become an aviator, and the day she received word from our headquarters, I don't think I have seen that much pure joy on someone's face since I was a kid."

Leonardi added, "Part of your job is teaching, but where you really get the reward is seeing them reach their goals and knowing you had a little piece in that."

Leonardi tells his midshipmen that his goal for them is that, at some point in their career, they think back on something they learned in NROTC at CMU that they can use to make the lives of the individuals in their fleet better or help someone come home safely.

"Then we've done something," Leonardi said.

As he remembers those who served before him on this Memorial Day, he says he feels grateful to be in Pittsburgh and at CMU where he is surrounded by people who love and support the members of the armed forces.

"A squadron mate of mine gave his life trying to bring home an aircraft that was malfunctioning," Leonardi said. "That allowed three people to come home and return to their families. That is constantly in my mind. It reminds me of our oath that we take, that we are willing to do that if called upon, and the incredible bond we all share and understand. It reminds me of the link between the present and the past, whether they are here in physical presence or in memory, we stand together and reaffirm our faith in the U.S."


Bottom photo: Lieutenant Leonardi (left) receives the National Defense Industrial Association "Colonel Leo A. Codd Memorial Award," First Place Most Outstanding U.S. Navy NROTC Instructor for 2012, from Captain Thomas Calabrese, Commanding Officer, Carnegie Mellon University NROTC Unit.
Related Links: Tepper School of Business | About Leonardi | NROTC at CMU
---