Exclusive Engagement
Watch the Tata Forum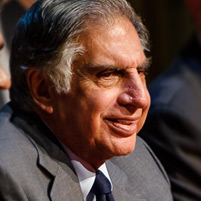 Ratan Tata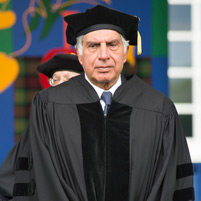 Tata receiving honorary degree at CMU Commencement 2013
An illustrious guest presented Tepper School of Business students with a singularly exciting start to the events of the recent graduation weekend. Ratan Tata, chairman of Tata Trusts, internationally-renowned business leader, and recipient of an honorary doctorate from Carnegie Mellon University, spoke with graduates and their families during an exclusive forum.

Tata stepped down just months ago as chairman of the holding company Tata Sons and several major companies of the Tata Group — India's largest conglomerate — a position he held for more than twenty years. He remains chairman emeritus and has taken the helm of the philanthropic Tata Trusts.

Under his leadership, the 145-year-old conglomerate grew in revenues from $5 billion to $100 billion and expanded its reach into 80 countries with 450,000 employees. He is also a dedicated philanthropist — passionate about issues from improving children's nutrition to water conservation.

For his many accomplishments, Tata has been honored with numerous awards, including an honorary doctorate of business practices this year from Carnegie Mellon University.

Tepper Dean Robert Dammon kicked off the afternoon's forum, introducing Mr. Tata and recognizing CMU president Jared Cohon, in attendance, for his outstanding service to the university.

Dammon then opened the floor to students and their questions, adding insights throughout. Tata, soft-spoken, candid and modest, engaged thoughtfully with the students on topics from leadership to legacy.

"Most people don't know that when we look at an acquisition, we spend a lot of time and energy in figuring whether the management culture of that organization is compatible with ours," Tata observed in discussing his organization's high regard for ethical conduct.

"We have quietly walked away from companies that would have been a good fit but where the culture would have been wrong."

When questioned about specific transactions, Tata relayed surprising lessons learned, particularly regarding the Tata Nano automobile.

"We learned that we marketed the car wrongly," he remarked. "We built an affordable transport for families. We marketed it as the cheapest car but people didn't want to be seen in the cheapest car. It should have been put out as the best value for the money."

On broader topics, Tata conveyed his views on India, describing it as a country with "enormous opportunity, a young population and enormous natural resource capability." He noted infrastructure as one of India's greatest challenges — something that will require outside investment to develop.

A self-effacing Tata demurred on the topic of his legacy, stating, "What I hope I've left behind is a legacy of doing the right thing. We've tried to run the group with values and ethics. We could have done more but we would have compromised our standards. I just want to go home at night and hold my head high."

And to the graduates in particular, he advised, "If you do what you feel happiest doing you probably will do well. So go into a business, not for money, but for the enjoyment and satisfaction of what you do. And hopefully," he added, "with a sense of ethics and values."

After thunderous applause, the event came to a close with the beaming soon-to-be graduates flooding onto the stage for a group photo with Tata, who wished them "all the very best and congratulations as you move into the world."
Related Links: Tepper School of Business | Commencement 2013
---