Congrats, Qatar Grads!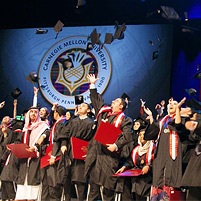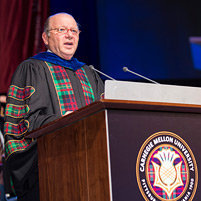 President Cohon at Qatar Ceremonies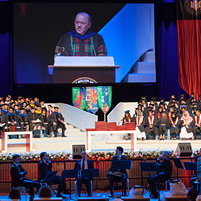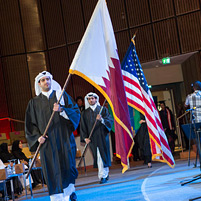 Before an audience of over 1,200 dignitaries, family and friends, Carnegie Mellon University in Qatar celebrated its sixth graduating class with hopes for exciting new beginnings and a fond farewell to Jared L. Cohon, president of CMU.

Cohon, who will be stepping down as president in June after 16 years of service to the university, gave his final charge to the 81 students, including 24 Qataris.

"Seeing our programs grow and thrive over the last nine years has been one of the high points of my time as president. I could not be prouder of what we have accomplished together," Cohon said.

Speaking to the Class of 2013, he said: "The knowledge and skills you have acquired here and the friendships you've forged will shape the rest of your lives. And what you do with your hard-earned degrees will shape the future of Qatar and this region. The strong and vibrant connections that have grown in this close-knit learning community are the heart and soul of this university, and they are what make Carnegie Mellon a special place. What you have accomplished here is important — important for you, for your family, and for your nation."

This year's celebration was also marked by the first Qatar campus graduates of CMU's Biological Sciences program. Of the six biological sciences students to receive their degrees, five received University Honors.

"It really is an honor to be one of the first graduates in biological sciences and to be a pioneer from this program. My experience at Carnegie Mellon will always be really special," said Mei ElGindi.

Ahmad Al Salama, graduating with a bachelor of science in computer science and a recipient of the 2013 Senior Student Leadership Award was selected as class speaker. In 2011 Al Salama won Al Fikra National Business Plan Competition and as a freshman he cofounded the Qatari Student Association.

In reflecting on his experience at CMU and the historical changes the students had seen over the past four years, Al Salama challenged the graduates to make history. "It is an experience, and during this experience much has changed within our cosmos, our world, our region, our nation, our campus and within us. And yet, the greatest thing that we have witnessed is our own growth, our own achievements, and so we, the Class of 2013, have not only witnessed history, we have made history."

Ilker Baybars, dean of Carnegie Mellon University in Qatar, presented the Andrew Carnegie Society Scholar Award and the Qatar Campus Scholar Award to Fatema Akbar, and Qatar Campus Scholar Awards to Manoj DaReddy and Shivani Arora. 
Congratulating the graduating class, Dean Baybars said: "This evening, we are honoring the Class of 2013, who have spent the last four years working hard in one of our rigorous programs. This is an exciting time to be a graduate of Carnegie Mellon.  I wish each and every one of you success as you embark on the next stage of your journey." 
In commemoration of CMU's Scottish history, the ceremony included a bagpiper dressed in full regalia as well as a performance by a brass ensemble comprising members of the Qatar Philharmonic Orchestra.
Of the 81 graduates, six majored in biological sciences, 43 in
business administration
, 14 in
computer science
, and 18 in
information systems
. In addition to Qatar campus graduates, Leto Karatsolis-Chanikian, an
architecture
student who studied at the Pittsburgh campus, received her diploma during the ceremony.
Nationalities represented in the Class of 2013 include 24 from the State of Qatar — the highest number of nationals to graduate from Carnegie Mellon in Qatar to date — Azerbaijan, Bahrain, Bangladesh, Egypt, Germany, India, Iran, Iraq, Jordan, Lebanon, Malaysia, Morocco, Oman, Pakistan, the Palestinian Territories, Serbia, Sudan, Syria, Tunisia, Yemen, United Arab Emirates and the United States of America.
Related Links: Carnegie Mellon University in Qatar | Biological Sciences | Business Administration | Computer Science | Information Systems | Breaking Stereotypes
---