Bosch Fellows Abroad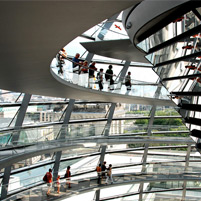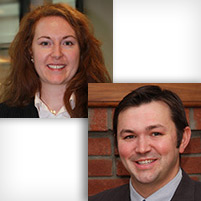 Faith Hall & Riley Ohlson
A year-long exchange program in Germany and the European Union will enable two Robert Bosch Foundation Fellowship recipients from Carnegie Mellon University to expand their studies overseas.

Selected from nearly 400 applicants, Riley Ohlson (HNZ'13) and Faith Hall (DC'02) are two of 19 recipients awarded who will work alongside key decision-makers from Germany's public and private sectors.

The Robert Bosch Foundation Fellowship Program is funded by Robert Bosch Stiftung to "develop a new generation of Americans committed to strengthening transatlantic relations."

The 2013 fellowship class is made up of aspiring leaders from across the country in fields from international affairs and journalism to health care, defense and economic policy.

Following an intensive German language instruction period in their hometowns, the fellows will spend the summer in Berlin receiving group language training. In September, they will begin a series of three professional seminars across Europe and two work assignments at leading German institutions.

Ohlson is expected to complete his Master of Science in Public Policy from CMU's Heinz College this year. He received his bachelor's degree in English from the University of New Hampshire in 2004. Previously, he was associate director of legislation and government affairs for the Massachusetts Nurses Association and a negotiating committee member for the Professional Employees Union. Ohlson's fellowship focus will be industrial policy.

"The Bosch Fellowship will allow me to work directly for German institutions to learn about how we can improve the way labor unions, non-profits, businesses and government work together to promote manufacturing and sustainably grow an economy that benefits all Americans."

"I feel very honored and privileged to be awarded the Bosch Fellowship," said Ohlson. "I know how rare it is to be given an opportunity like this, and I look forward to ultimately applying what I will learn as a fellow to improving the economic environment here in the U.S."

Ohlson added, "I am thrilled and excited to get started, and I'm also very grateful to the many amazing professors at Heinz whose rigorous classes helped to further develop the skills I will need to be able to make an impact during this fellowship."

Hall, who majored in anthropology and German in CMU's Dietrich College of Humanities and Social Sciences, received her Master of Arts in City and Regional Planning from the University of Pennsylvania in 2009. She has worked as a community planner for the U.S. Department of Transportation and as a legislative fellow for the office of U.S. Senator Robert Menendez of New Jersey. Her fellowship focus will be land use and transportation planning.

"The Bosch Fellowship will be a really unique opportunity for me to combine my enthusiasm for intercultural exchange with my professional commitment to help communities anticipate change to become more resilient, equitable, and healthier in the future," Hall said. "I think the experience will challenge me to approach issues in innovative ways and will open up new perspectives for thinking globally and acting regionally."
Related Links: Dietrich College | Heinz College | Introducing the 2013 Bosch Fellows
---