Road Scholars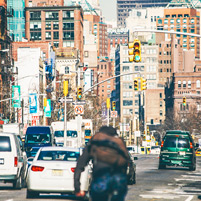 It only takes a split second of distraction to cause an accident.

In the U.S. there are about 10 million automobile and truck accidents annually, most of them due to human error.

To solve these safety woes, the U.S. Department of Transportation has awarded a $5.65 million grant to establish a national research center, University Transportation Center (UTC), led by Carnegie Mellon University.

Electrical and Computer Engineering Professor Raj Rajkumar will serve as the center director. He also serves as co-director of two General Motors-CMU Collaborative Research Labs.

Carnegie Mellon's team includes researchers from the University of Pennsylvania. The partnership between the universities will utilize information, communication and sensing technologies to enhance transportation safety, improve the efficiency of roadways and reduce travel time.

Carnegie Mellon President Subra Suresh praised the research team for their innovative and pioneering work in developing technology to improve transportation safety and infrastructure efficiency.

"This research is a wonderful example of the collaborative, multidisciplinary and community-oriented work so engrained in our culture of innovation," he said.

CMU researchers from engineering, robotics, computer science, information systems and public policy collaborate on a number of research efforts related to systems that make up the U.S. infrastructure, such as transportation networks, pipeline networks, the electric grid and buildings.

"The focus of this UTC is an excellent illustration of how we need to explore the ways in which technology can help make infrastructure systems more safe and efficient," said James H. Garrett Jr., dean of the College of Engineering and the Thomas Lord Professor of Civil and Environmental Engineering.

Already, CMU is leading the way with development of an autonomous car to help improve road safety.

The university also is involved with development of a new adaptive traffic signal control technology, sponsored by the Traffic21 Initiative, which could ultimately reduce harmful vehicle emissions and long travel times through urban neighborhoods.

"This new grant will supplement the important groundbreaking work already underway on urban mobility and transportation at CMU," said Ramayya Krishnan, dean of the H. John Heinz III College at CMU.

Both CMU and Penn have engaged more than 40 public, private and nonprofit partners key to deploying the federally funded research technologies through pilot projects and commercialization.

The consortium also contributes to the education of tomorrow's transportation leaders and for increased understanding of transportation infrastructure and policy challenges. The grant is matched in part by the Hillman Foundation of Pittsburgh.
Related Links: College of Engineering | Electrical and Computer Engineering | General Motors-CMU Collaborative Research labs | Traffic21 | Read press release | An Extraordinary Ride
---