From Kathmandu to Qatar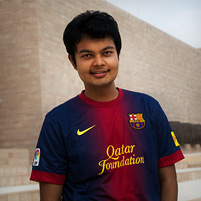 Aayush Karki
A passion for soccer led Aayush Karki from Nepal's Kathmandu Valley to Qatar.

The Carnegie Mellon University computer science major received a full, four-year H.E. Sheikh Nasser bin Hamad bin Abdullah Al Thani Scholarship.

He also received the trip of a lifetime to see his favorite team, FC Barcelona, in action.

Even before Qatar Foundation's logo were on the shirts of FC Barcelona, Karki read a story online about a partnership between the Qatar Foundation and the professional soccer club. From there, he discovered the foundation's Education City, the six American universities that call it home, and, most excitingly, that Carnegie Mellon's world-renowned computer science degree was being offered in Qatar.

In addition to studying computer science at CMU, Karki said he was drawn to Carnegie Mellon University Qatar by its small but diverse community and by being a part of Education City. The scholarship allows Karki to complete his undergraduate degree and attend graduate school.

"To be able to attend Carnegie Mellon was like a dream come true. And I owe this largely to the generosity and kind spirit of the family who made the scholarship available to me," Karki said. "The scholarship allows me to put my focus entirely on my studies and interests during and after my time at Carnegie Mellon. I am very thankful for this opportunity."

Karki is the first person to receive the H.E. Sheikh Nasser bin Hamad bin Abdullah Al Thani Scholarship, which was established in 2012 following a $1 million gift to the university from an anonymous donor. Sabal Subed (T'17) received the scholarship this year, and two additional scholarships will be awarded in the future.

The H.E. Sheikh Nasser bin Hamad bin Abdullah Al Thani Scholarship can be offered to students who qualify for financial aid and apply to any of Carnegie Mellon Qatar's five majors — biological sciences, business administration, computational biology, computer science and information systems.

"We are incredibly appreciative for this commitment to Carnegie Mellon, which helps to attract and support outstanding students who otherwise could not afford to study at a world-renowned institution like Carnegie Mellon," said Ilker Baybars, dean of Carnegie Mellon University in Qatar.

"I hope this scholarship brings Aayush one step closer to fulfilling his goal of advancing the field of computer science and achieving his dream of bringing technology to underserved communities."

Near the end of his freshman year, Karki traveled to Barcelona, Spain, to watch FC Barcelona play.

"It was one of my dreams," he said of sitting in Camp Nou, the team's stadium. "I always wanted to experience this atmosphere, 90,000 people, it's so loud."

The game was against Real Betis, and Barcelona won 4-2. The experience was one of many Karki is sure to have during his time in college.

"Studying at CMU is a great opportunity," Karki said. "I have to make the most out of it. I can't miss this chance."


Photo courtesy of Carnegie Mellon University Qatar. Aayush Karki is the first H.E. Sheikh Nasser bin Hamad bin Abdullah Al Thani Scholarship recipient at Carnegie Mellon Qatar.
Related Links: Carnegie Mellon University Qatar | The Qatar Foundation
---