Community Support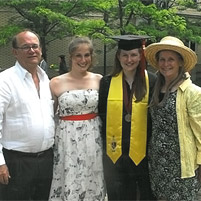 The Lee family
Recent graduate Emily Lee (TPR'13) was inspired by her Carnegie Mellon University experience — and that inspired her appreciative parents, Chick and Evelyn, to generously give back. Excited at the prospect of impacting campus life, Emily suggested the University Center expansion project, which will help transform the Pittsburgh campus by enhancing CMU's facilities for student fitness and artistic performance.

Despite the fact that her grandfather, father, mother and sister all graduated from Yale University, Emily was smitten with Carnegie Mellon from the first campus tour she and her father took during her senior year of high school.

"Emily wanted a broad business education," said her father, Clarence "Chick" Lee III. "And the Tepper School offered something more than just a liberal arts economic degree." 

"We really liked the atmosphere at CMU," he added. "It was a great environment."

During Emily's four years at CMU, the Connecticut native took her father's advice to "take advantage of as much as the college had to offer." She threw herself into her studies — double majoring in business and statistics — and activities that included a business fraternity, acting as push captain for her winning buggy team, booth building and time with close friends — three of whom remain roommates today.

She also benefitted from summer pursuits that included classes in Paris, an internship with DirecTV in Los Angeles and another with IBM. This led to her current position in IBM's consulting group in New York City.

When considering a concrete way to support her alma mater, Emily was drawn to the University Center expansion project as a "central place for students" to congregate and build community ties.

The project seeks to expand the current limited space with a 45,000-square-foot addition that will include improved fitness and recreation areas, a flexible use theatre and a new entrance and lobby area facing Forbes Avenue. Construction is expected to begin in early 2014.

About 1,000 people a day utilize the fitness and recreation spaces, and new and expanded facilities are anticipated to encourage even greater participation, enriching campus life and helping to recruit and retain the very best students, faculty and staff.

"Emily really loves CMU," stressed her father. And it's the generous support of families like the Lees that helps to provide others with that same valuable connection.
People like the Lees help sustain our vibrant and thriving community.
Please consider a contribution to Carnegie Mellon. We can all make a difference.
Related Links: University Center Expansion | Piper University Center expansion story | Tepper School of Business
---