Cèilidh Weekend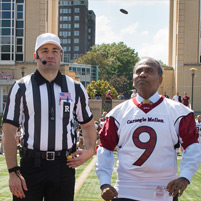 President Suresh flips the coin at Saturday's football game
Carnegie Mellon University's Tartan football team defeated the Golden Tornadoes from Geneva College 34-27 in a double overtime victory that had fans on the edge of their seats Saturday afternoon in Gesling Stadium.
The win was just one of many highlights from this year's Cèilidh Weekend, a celebration for the entire CMU family that combines the traditions of Homecoming Weekend and Family Weekend.
Dr. Subra Suresh gave his first annual President's Address to an overflow crowd in McConomy Auditorium on Saturday morning, during which he answered a variety of questions from parents in the audience.
"In the few months that I've been here at this university, I've come to know more and more with each passing day how wonderful the community is, and by that I mean the global community," Suresh said.
His address was followed by a symposium on the impact of Brain and Mind research during which a panel of experts discussed the opportunities and challenges posed by the federal BRAIN Initiative. The symposium was the first in a series of discussions celebrating Dr. Suresh's inaugural year.
Other highlights included:
Katayanagi Prize for Research Excellence Award Presentation & Lecture This year's Katayanagi Prizes in Computer Science went to Stanford University's Pat Hanrahan and Cornell University's Doug L. James, computer scientists whose innovations in computer graphics have enhanced such movies as "Avatar," "Hugo," "The Dark Knight," "Finding Nemo" and "Star Trek."
50th & Platinum Reunions Reunions brought together friends and classmates who shared memories from days gone by and made some new ones as they celebrated special milestones this year.
Alien She Art enthusiasts enjoyed visiting this exhibition's opening weekend in CMU's Miller Gallery, which examines the lasting impact that Riot Grrrl, a pioneering global punk feminist movement, has had on artists and cultural producers working today.
TOBOM Demonstrations invited everyone to race their robots up The Helix in the Gates and Hillman Centers, which presented new levels of complexity in comparison to the Spring MOBOT races.
The Limits of American Intervention: Lessons from Afghanistan Drawing on his three tours of duty in Afghanistan as a military commander and ambassador, Karl Eikenberry discussed the limits of American hard power in effecting sustainable political-economic change through interventions.
Alumni Awards Ceremony & Reception celebrated this year's alumni, student and faculty honorees for their outstanding contributions to CMU and the world.
Scotch'n'Soda's 6th Annual Charity Cabaret showcased the many vocally talented members of the organization as they performed classic and modern musical theatre repertoire.
Chili Cook-off & Zero Waste Tailgate Hundreds of students and their families grabbed some lunch before heading to the game to cheer the Tartans on to victory over the Golden Tornadoes
Alumni and students who attended and signed in at an event during Cèilidh Weekend got one step closer to being recognized as a Loyal Scot. What's a Loyal Scot?
Related Links: Alumni Awards | Brain-Mind Symposium | Cèilidh Weekend Schedule | Become a Loyal Scot | CMU Traditions
---