Breaking Barriers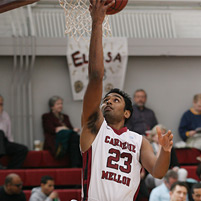 Keerthi Boru
Carnegie Mellon University student-athlete Keerthi Boru (DC'16) had hoped to share his love of basketball with youth in India last summer.

But even he was surprised by the outpouring of interest in his clinics.

An economics major and starter for the Tartans basketball team, Boru was happy to spread the message of how to live a balanced life.

"I anticipated 20 students per session, but at one point we had 80 kids on the court," said Boru, who alongside his sister, worked with 300 kids ranging in age from 6 to 19.

Each session was two hours and included ball-handling, shooting and passing drills followed by a talk on nutrition and the importance of a balanced lifestyle.

"Balance is the toughest part of any college student's life, but even more so for a student athlete. What sports teaches more than anything is unwavering discipline," Boru said. "I had to learn fast that I was not going to make it if I did not set aside three to four hours every day, even weekends, to do homework and study."

The first indoor basketball court in Hyberadad, where his parents were born, is only a few years old. Boru was passionate about the idea of helping youth in India with basketball fundamentals, so when his family offered to help him make the opportunity a reality, he followed his heart.

"I met a couple of kids who could definitely play collegiate basketball in the United States and want to play in Europe," Boru said. "They've never even had any coaching; the only thing they've had to learn from is YouTube. That is just amazing to me.

"Academics, without a doubt, come first. But I feel you have to pick at least one hobby and go after it almost just as hard," Boru said. "I believe that for kids to be truly productive at whatever they do, they need to have a hobby that can act as a release from the tension of academics. Pursuing a hobby, especially one like sports, is a great opportunity to develop your leadership and other skills and is filled with a multitude of ethics and work lessons."

Boru is proof that a student-athlete can have the best of both worlds at CMU. Initially drawn to the university for its reputation for academic excellence, he was pleased to learn that his commitment to academics and basketball would be not only be possible but encouraged and supported.

"Being a student-athlete at CMU means that you're part of the Tartans athletic family. I know that my coaches and my professors are always looking our for my well-being and that my teammates always have my back," he said.
Related Links: Dietrich College | Athletics | Men's Basketball
---