Beauty of Time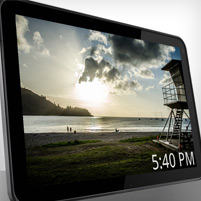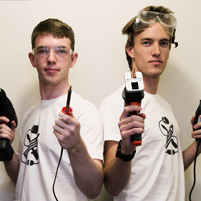 Fabricate.io team Scott Martin & Todd Medema
Tick, tock, a clock's a clock. Boring, right? Not in the hands of Carnegie Mellon University senior Todd Medema (TPR'14).

He's developing the World View Clock, an Android and iOS app, as well as a stand-alone device, that will allow users to experience time through time-lapse photography of picturesque locations.

Medema hatched the idea after taking adjunct assistant professor Elizabeth Griffin's photography class, and he honed his skills through the CMU Film Club. He became fascinated with time-lapse techniques, where a sequence of photos are taken at regular intervals over a period of time.

In CMU's interdisciplinary spirit, Medema designed his own major — Technology, Entrepreneurship and Design. He combined all three disciplines to produce the World View Clock and recently launched the Android application with the help of Joseph Robinson (CS'16), a sophomore computer science student with whom Medema connected via the CS@CMU Facebook group.

Medema developed his project as part of Fabricate.io, a "company of inventors," as he describes it, which he co-founded with Scott Martin (CIT'14), a senior in electrical and computer engineering.

The team is working on its first batch of clocks. Time-lapse locations include Pittsburgh, Pa.; Austin, Texas and Grand Teton National Park. Additional locations will include New York City, Washington, D.C., and Yosemite National Park with more to come.

A serial entrepreneur, Medema credits his classes with giving him an understanding of business and marketing and Project Olympus, a CMU "innovation center," with helping him to launch the fledgling business. He notes the flexibility of his professors in helping him to travel for the creation of his images.

"The impact CMU has had in all that I've achieved cannot be overstated," Medema said. "The classes alone would have been more than enough to get me started, but I've also met countless incredible students and professors who have shared life-changing advice and helped me build my ideas."

"Outside of class," he continued, "I've also learned an incredible amount from working with fellow students on side projects, and much of what I've learned from these projects — including film, web development and electrical engineering — has fed back into my professional life."

In further support of that professional life, Medema received this year's Jerome J. Segal Undergraduate Scholarship. The annual award, endowed by Evan and Tracy Segal to honor Evan's father, a businessman who valued value for education and hard work, is granted to two CMU Tepper School of Business seniors in recognition of academic excellence, innovation and leadership.

"Receiving the Jerome Segal scholarship was incredibly helpful," Medema said. "It has enabled me to focus on growing my entrepreneurial ventures, like the World View Clock and Fabricate.io."
Related Links: Tepper School of Business | AutoRef | World View Clock
---