App of the Year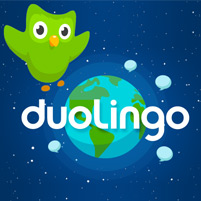 When Carnegie Mellon University scientists Luis von Ahn and Severin Hacker launched Duolingo their goal was to help people learn foreign languages.

It seems to have worked.

The website has proved so popular that its iPhone version was recently named Apple's App of the Year.

The app has been downloaded 10 million times from Apple and nearly 8 million from Android. More than 5 million people are monthly active users.

Von Ahn (CS'03, '05) said he and Hacker, a Ph.D. student of Von Ahn's in the School of Computer Science, were surprised by the quick success and are proud of the wide adoption of the service, which has a goal of remaining free.

"Most people who want to learn a foreign language are of low socio-economic status, and are in fact learning a language to get a better job or otherwise get ahead in life," he said.

"At the same time the ways in which people learn languages usually cost a lot of money — think of Rosetta Stone, which costs $500. So that's the big irony: most people are learning a language to make some money, but it costs a lot of money to do so."

Users of the website have access to computer tools that enable novices to translate text as well as a professional. The site offers free language lessons and computer-generated exercises in English, Spanish, French, German, Italian and Portuguese. To beef up practice, real-world texts from the web are available with the computer providing advice and guidance on unknown words.

The additional benefit is that the work is generating translations for websites, making what's online available to a broader global audience.

Von Ahn has used such crowdsourcing approaches successfully in the past to tackle big problems. In 2007 he created the online puzzles known as reCAPTCHAs, which serve to reduce spam and protect websites from automated, malicious programs, while also digitizing old books and periodicals.

Von Ahn has said his goal is to have 50 languages available with volunteers signing up to add their own languages to the infrastructure.

Duolingo was spun off from CMU in November 2011, and now employs 30 people in Pittsburgh, more than half of whom are connected to the university.

"CMU is an amazing hub of activity and smart people in computer science," he said.

Initial funding came from Union Square Ventures, a venture capital firm with technology investments that include Twitter, Tumblr, Foursquare and Zynga and actor-producer Ashton Kutcher.

Kutcher, who portrayed Apple founder Steve Jobs in a recent biopic has poured more than $100 million into technology companies such as Airbnb, Spotify and Foursquare. He continues to stay informed about Duolingo and tweeted about Apple's recognition.

Duolingo has since been monetized through its website. Users practice their skills on documents and webpages from clients such as CNN and BuzzFeed.
Related Links: School of Computer Science | Translating the Web | Press Release: Duolingo.com Users Will Translate Web As They Learn a New Language
---