$1 Billion and Counting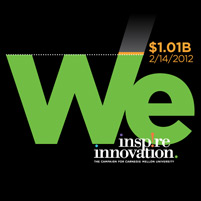 Carnegie Mellon University's Inspire Innovation campaign has crossed the $1 billion milestone. The campaign continues until June 30, 2013, so there is still time to be a part of this historic effort.

"The success of Inspire Innovation is a testament to the loyalty and generosity of our alumni, faculty, staff, parents, students, corporations, foundations and friends," said University President Jared L. Cohon. "They believe in us deeply, and they've demonstrated it through their support of the campaign."

What makes this accomplishment especially impressive is that its public launch in October 2008 coincided with the beginning of one of the worst global economic recessions in history.

Despite the economic climate, more than 44,500 donors have made a gift to the university so far during Inspire Innovation. Already, the campaign has created a tremendous impact at CMU, including:
Donors naming two colleges — the David A. Tepper School of Business and the Marianna Brown Dietrich College of Humanities and Social Sciences
The transformation of the H. John Heinz III School of Public Policy and Management to the H. John Heinz III College
190 new endowed scholarships
73 new endowed fellowships
24 new endowed professorships
Seed funding for strategic academic and research areas such as energy, the environment, cosmology, urban design and brain science
New capital projects such as the Gates Center for Computer Science, the Hillman Center for Future-Generation Technologies, the Kraus Campo, and renovations to laboratories, academic buildings, fine arts spaces and student health and fitness amenities
"This is a great day for the Carnegie Mellon community," said Edward H. Frank, (S'85), University Life Trustee and Campaign Chair. "As an alumnus and a parent, it is especially gratifying to see so many people contribute to our success. Of course, there is still more work to be done as we look to expand support for our students and faculty and attract the best minds to our university. Our strategy includes ongoing philanthropy and working hard to contain costs."
 
"While crossing the $1 billion mark is significant, and it does help the university on its current trajectory of excellence, it does not insulate us entirely from the operating cost of successfully preparing our students for today's global workplace," said Cohon. "That is why we will continue to press on in true Carnegie Mellon fashion through June 2013, and why it's not too late for anyone to become part of our campaign's success."
Related Links: Inspire Innovation | Campaign Fact Sheet [.pdf] | Letter from the President [.pdf]
---