Macrowikinomics
Don Tapscott at The Innovators Forum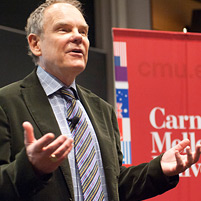 Don Tapscott
As the industrial age comes to an end, the world needs to rebuild its institutions for a new era of networked intelligence.

So says one of the world's most influential management thinkers according to Thinkers50.

Don Tapscott, author and business management expert, visited Carnegie Mellon University to talk about his latest book, "Macrowikinomics," co-written by Anthony D. Williams.

Tapscott is a leading authority on innovation, media, and the economic and social impact of technology. He advises business and government leaders from around the world.

"I think the future is not something to be predicted, it's something to be achieved," he said to the eager audience of CMU students, faculty and staff gathered in Rashid Auditorium in the Hillman Center for Future-Generation Technologies.

The event was part of The Innovators Forum, an exciting new series connecting the world's top innovative minds with the university community.

Heinz College Dean Ramayya Krishnan moderated a Q&A with the audience.

Tapscott believes that rebuilding our institutions for the new age of networked intelligence will require a new set of principles, including collaboration, openness, sharing, interdependence and integrity.

"In the past, we looked upon our established governments to ensure we had justice. But we were passive recipients. Today, people can participate in all kinds of ways," said Tapscott.

"You can be a crime fighter today just by entering data into Crime Stoppers. On a more significant level, people can topple oppressors," he explained.

Tapscott admits it's hard to keep up with technology.

"The change, the pace — it's pretty overwhelming. How do you stay on top of this? I don't think I have a secret sauce, but personal use of the technology is key," he emphasized.

First and foremost, if you still don't have a Facebook or Twitter account he suggests you check it out to see how they work.

"Then go onto Wikipedia, edit something and see how a community like that works."

Secondly, if you're older, he recommends you get yourself a reverse mentor, someone with more experience than age.

"There's a new model for leadership today. Take Wikipedia. There's a process whereby things get corrected and value comes to the table. It's leadership through the curation of value."

Tapscott is the co-author of "Wikinomics: How Mass Collaboration Changes Everything," the best-selling management book of 2007.

He also is chairman of Moxie Insight, a business strategy think tank that focuses on innovation through collaboration; a member of the World Economic Forum; and an adjunct professor of management for the Rotman School of Management at the University of Toronto.
Related Links: Macrowikinomics | Heinz College | Flickr gallery
---