Welcome, First-Years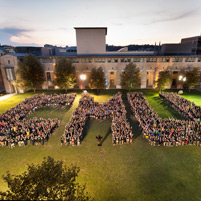 Undergraduate students from 37 countries and 46 states — 1,420 of them — are about to begin one of the most exhilarating chapters of their lives.

They are Carnegie Mellon University's Class of 2016. Among them are:
77 Valedictorians
205 who had straight A's in all four years of high school
19 who had perfect SAT scores
The class also goes on record for having the highest-ever percentage of women — 45 percent.

A weeklong whirlwind of activities will connect all of these brilliant minds to campus, the community, the city of Pittsburgh and most importantly to one another.

Among the highlights of Orientation Week are Playfair — billed as "the biggest icebreaker ever" — where students and staff gather on "The Cut," the grassy area outside the University Center, for games, activities and mingling.

Carnegie Mellon University in Qatar will also host orientation activities as they welcome more than 100 first-year undergrads to CMU's Doha campus later this month.

"Coming into college, I was nervous, anxious and excited. I was reluctant to come out of my shell," said Bennett Kriete (E'14). "But once I decided to embrace it, my experience changed drastically. CMU's Orientation Week is one of the best in the country. I encourage everyone to take advantage of it, and put yourself out there."

Over the summer, each student was sent a copy of Randy Pausch's book The Last Lecture. During orientation week, the students will meet in small groups, led by faculty and staff mentors, to discuss college, life and what it means to "really achieve your childhood dreams."

Nadia Sheen (MCS'13) is excited to start her next chapter at CMU.

"Here is my chance to try anything and do everything," Sheen said. "This is my opportunity to pursue my passions and investigate new interests, to enrich myself, to challenge myself and to discover what inspires me to succeed."

From world-class faculty who are experts in their fields to alumni who return to campus to share their stories of entrepreneurial success, inspiration is everywhere at CMU.

Here's to success.
Related Links: Orientation 2012 | About Randy Pausch | CMU Traditions | Undergraduate Admission Office | Carnegie Mellon University in Qatar | Orientation 2012: Move-in video on YouTube
---