Student Dreams Fulfilled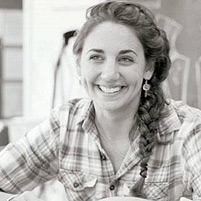 Sylvianne Shurman (A'13)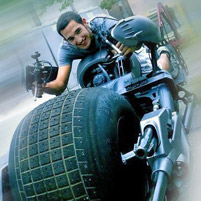 Justin Barsano (E'14) on the Batpod during filming at CMU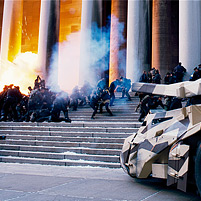 City Hall fight scene filmed on the steps of CMU's Mellon Institute
Editor's note: Our thoughts go out to the Aurora, Colorado community, in the wake of the recent tragedy.

Gone are the flimsy gray tights. And the pointedness of the ears has changed more than once. But many regard Batman's suit as the ultimate costume.
One Carnegie Mellon University
costume design
 major was lucky enough to touch one of those suits while on the set of
The Dark Knight Rises
. And Sylvianne Shurman's (A'13) "luck" didn't stop there — she made connections that led to her current work on a Martin Scorsese film starring Leonardo DiCaprio and more.
For The Dark Knight Rises, filmed partially on CMU's campus and other locations in Pittsburgh, a number of CMU students took advantage of the opportunities to watch filming, work on a Hollywood set and ask questions to some of the most respected people in the business.
Shurman had management and security duties.
"It has been absolutely fantastic," said Shurman. "I was offered the opportunity to travel with the film to L.A. and New York City, but chose not to put my education on hold. Instead, I continued to work on the film throughout the year as often as possible, this time in the wardrobe department."
Through the connections she made, she was offered positions on many films that came through Pittsburgh.
"Most recently, I worked as a set costumer on Gus Van Sant's Promised Land starring John Krasinski and Matt Damon."
This summer, though, Shurman decided to "branch out a bit" when her boss on the set of the Batman movie offered her work in New York City on a Ben Stiller film.
She is currently working in New York City as an intern on Martin Scorsese's next film with Leonardo DiCaprio called The Wolf of Wall Street.
"This industry is so spectacular because of the people who work in it. Not only are they all skilled and incredibly dedicated, they are good, kind people with a lot of loyalty to their coworkers," Shurman said.
Engineering
 student Justin Barsano (E'14) spoke at length with one of those experts — 
The Dark Knight Rises
special effects supervisor and Academy Award winner Chris Corbould.
"I met Chris at a Batman Q&A session for CMU students. Chris's description of special effects and the experiences he had enthralled me," Barsano said.
"In the special effects industry, Chris explained, you are given a project that your team must complete in a timely manner. However, it is not simply that straight forward; you must tell the director what is and isn't possible, still satisfy what they want, design the jigs needed, quickly build and test them, execute the stunt, and ensure that everyone walks away safely."
Barsano added, "In other words, flipping a large semi over in a big city takes a lot of work."
The next morning, Barsano took Corbould up on an offer to stop by the set.
"My friend and I were admiring the Tumbler  — or 'Batmobile' — from behind the fence when a mechanic came over. I began to talk to him about the car and its specifications. He allowed us to take a closer look. Then, another mechanic joined the conversation."
Barsano continued, "They seemed to have put their heart and soul into creating this tank-like vehicle and were eager to talk about it. Midway through the conversation the mechanic asked, 'Are you the two mechanical engineers from Carnegie Mellon that Chris Corbould talked to?' I was ecstatic and couldn't believe they were actually expecting us. The mechanic left and returned with Corbould."
Barsano talked further with Corbould about the industry: the rigs he built, his challenging projects, greatest feats and favorite jobs.
"He allowed me to sit inside of the Tumbler as well as on the Batpod (the bike). And, he showed me personal footage on his computer that he was proud of, or that I might find most interesting."
Barsano said the footage Corbould shared was from rotating an entire hallway in the movie Inception, building a sinking building in Casino Royale, conducting test jumps with the Batman Tumbler, and sitting next to a pyrotechnic blast to demonstrate its safety.
"It was a rising mechanical engineer's dream," Barsano said. "I couldn't believe it was real."
Photo credit for movie image: A scene from Warner Bros. Pictures' and Legendary Pictures' action thriller "The Dark Knight Rises" a Warner Bros. Pictures release. TM & © DC Comics.

Related Links: Batman 3 | Pittsburgh Magazine: Gotham City's Evolution | Pittsburgh Post-Gazette Interactive
---