Sky's the Limit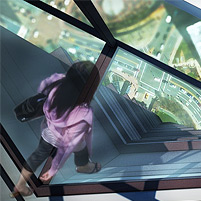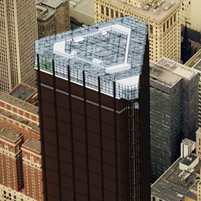 To the naked eye, it's just a rooftop.

But a virtual reality program created by students at Carnegie Mellon University's Entertainment Technology Center (ETC) reveals endless possibilities for unused space like the top of Pittsburgh's U.S. Steel Tower.

By taking a virtual stroll through Viewseum at High Point Pittsburgh, architects, business owners and would-be tourists can get a real sense of being inside and outside the proposed three-story addition.

Along with accessing the virtual simulation's dozen interactive kiosks and exploring its media gallery and video theaters, visitors can check out the proposed restaurant/café/bar, central atrium and numerous panoramic viewing areas.

Viewseum also allows visitors to ride elevators or climb stairs to the rooftop promenade and enjoy a virtual fireworks extravaganza.

"The talents of many people have combined to create an exciting, interactive online environment unlike anything you've ever seen," said David Bear, a fellow in CMU's Frank-Ratchye STUDIO for Creative Inquiry who has overseen the multi-year High Point Pittsburgh project.

"It's a virtual destination that allows anyone to experience an imaginary place we hope one day might become a reality. In a very real sense, it provides a whole new way to see what can be."

The project team includes producer Sean McChesney (CMU'13), who feels fortunate to be at CMU and have the opportunity to work on the project.

"Carnegie Mellon has been great, everything I could have imagined," said McChesney, whose primary role was to oversee his team's individual projects, making sure everyone had the same direction, was on time and on budget. "CMU has great faculty, great staff. It's good to be around people smarter than you because you learn well and adapt quickly."

Viewseum's programmers included Siddhesh Vichare and Cintia Higashi, and artist/designer Sun-Moon Hwang, all CMU ETC graduate students working under faculty advisers Mk Haley, ETC associate executive producer, and John Dessler, an ETC lecturer.

CMU School of Architecture fourth-year students Richman Neumann, Daniel Rapoport and John Kim provided architectural design and decor concepts for the project.

"Viewseum at High Point Pittsburgh is really an architectural proposal simulation," said McChesney. "We can do this for any space. The possibilities are rather endless."

The Viewseum at High Point Pittsburgh is the recipient of a Steinbrenner Institute Environmental Education Development (SEED) grant. The team presented the project July 14 in Pittsburgh at the National Association of Counties Annual Conference and Exposition at Heinz Field.
Related Links: Entertainment Technology Center | School of Architecture | High Point on Facebook | Visit the Viewseum (Unity Web Player plug-in required) | Steinbrenner Institute Newsletter [.pdf]
---