Providing Hope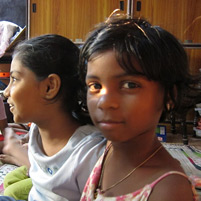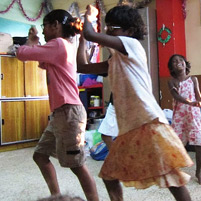 Dancing at the orphanage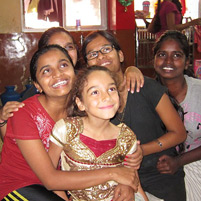 Ten years ago while on a business trip to India, Carnegie Mellon University alumna Karen Doff (TPR'92) visited an orphanage for girls. Inspired by its occupants, she created Aasha Foundation with business colleague Jenn Ryan.

Through Aasha — which means "hope" in Hindi — they have raised the bar on care given by a non-governmental organization or NGO, providing the girls with educational, recreational and social enrichment and most importantly, hope for a life beyond poverty.

"In a typical orphanage environment, somebody might buy 30 pairs of shoes and drop them off," explained Doff. "We take the kids out to experience normal shops, choose their own individual styles and colors, and feel comfortable in retail environments."

Doff says to help the girls break the cycle of poverty, education isn't enough.
"They need to be exposed to the broader environment, to develop confidence in the world around them," she said. "The more times they walk into a coffee shop, or get a taxi, for example, the more they understand their background doesn't carry a mark."

In addition to experiencing shopping trips, movie nights and dinners out in restaurants like middle- and upper-middle-class Indian children do, all the girls are computer literate; Doff and Ryan set up a computer lab for them in 2007.

"We started with five laptops and have since renovated the lab and brought in five new computers. We fund the computers, maintain them, and also fund broadband Internet. All the kids are on Facebook and Gmail, so we have the same exact challenges as every parent experiences as far as monitoring — keeping  track of what they're saying, who their friends are, and talking to them about Internet safety."

Zero overhead cost and a direct-giving model enables Aasha to maintain the highest levels of integrity with donors and to control exactly where every dime is spent.

So far, two girls have completed 12th grade and are attending nursing college. An additional three girls recently started college, pursuing bachelor's degrees in business and the humanities. All five of these girls are now living in college dorms.

"They came from some really tragic, difficult backgrounds. And seeing them complete high school and move on to higher education helps to prove the amount of potential that is here," said Doff.

Peter Stern (E'89), who is CEO of bitly, a CMU alumnus and an early supporter of Aasha Foundation, has visited the orphanage with his family and witnessed what he calls "the magic" of the place firsthand.

"I took my daughters on six weeks of travel to exotic and spectacular places that included swimming with the dolphins and riding elephants, and if you ask either of them about the best part of the trip, they will answer, without any hesitation, 'visiting Karen's girls,'" Stern said.

Mind you, he doesn't sugar-coat his description of the location.

"It's in the most chaotic, crowded and dirty part of Mumbai. You have to travel streets bordered by rubble, and awash in human and industrial waste, that are as crowded as Manhattan at midtown but without any understandable order or patterns," said Stern. "But inside the room, it's all laughs, shrieks and giggles, and light. The street you just crossed to get there is suddenly a million miles away."

Stern's 9-year-old daughter remarked, "It's great how they all live together like one big, happy family." And after singing and dancing with the girls, his younger daughter simply stated, "I want to live there."

Stern understands the draw. "30-plus girls, ages 4 to 18. Eager, happy, fortunate girls in a place where most are not nearly as fortunate."

Doff says her CMU education taught her how to think strategically, and that it's possible to take on real world challenges like this one — and to find solutions.
Related Links: Aasha on Facebook | Tepper School of Business | Aasha 10 Year Anniversary video
---