Olympic Ties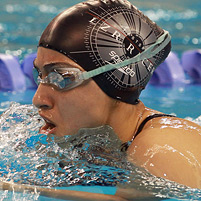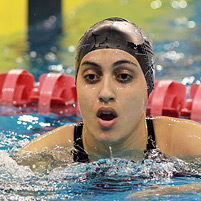 Nada Arakji
Nada Arakji, a first-year student at Carnegie Mellon University in Qatar, is the first female Qatari swimmer to compete in the Olympic Games.

Arakji has been featured in headlines around the world for her athletic skills, and received a wildcard entry to this year's games in London.

"We are very pleased to welcome Nada to the Carnegie Mellon family, and we wish her the very best. I am sure that her experience at Carnegie Mellon will help her to refine and develop the leadership qualities she already possesses as a budding athlete," said Ilker Baybars, dean of CMU in Qatar.

Baybars continued, "There is no doubt that Nada will come under the spotlight again in the years ahead, whether it be inside or outside the classroom. Carnegie Mellon Qatar's rigorous curriculum will ensure that she excels in her academic career, just as she has as a swimmer."

Arakji's appearance in London has garnered significant domestic and regional interest, as the teenager has already broken some of the stereotypes associated with Arab women. A homegrown celebrity, Arakji — who has been swimming since the age of nine — has become a symbol for women's empowerment.
"Words can't explain how excited and happy I am to be representing Qatar in the Olympics. I am so glad and thankful that God gave me the opportunity and I am able to live my dream and make my country proud," Arakji said.
Arakji placed fourth in her 50-meter freestyle heat with a time of :30.89.

At CMU, Arakji will study business administration with a minor in marketing, and hopes to take a leading role in the university's 'Student Majlis.' She also plans to join the basketball team, encourage other girls to take up sports, and lead her own swimming club.

"I chose Carnegie Mellon because its programs are ranked very highly and my degree will be recognized worldwide. I feel very lucky to be able to attend a prestigious university like Carnegie Mellon without having to leave my home country," she said.

Arakji said her athletic training will help her get ahead in the classroom.

"I hope to build on the competitive experience I am gaining as a professional swimmer and bring the same spirit to Carnegie Mellon Qatar as a freshman," she said.

The 2012 Olympic Games are taking place in London from July 27 through August 12.


Photos by Youssef Shahin, Qatar Olympic Committee
Related Links: Breaking Stereotypes | Olympic.org/Qatar | Athletics at CMU | Carnegie Mellon Qatar | Tepper School of Business
---