Awesome Opportunities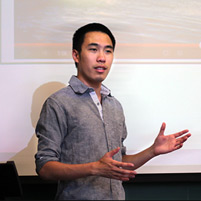 Brian Yee
At Carnegie Mellon University, many roads lead to exciting opportunities — often before graduation.

Just ask Brian Yee (DC'11, CS'12), who's on his way to YouTube in the fall. And that's after internships at IBM and Google, as well as a stint as a Google Student Ambassador.

"At IBM, I prototyped new tutorials using gamification. At Google, I did both design and development for YouTube," explained Yee, an information systems (IS) and human-computer interaction (HCI) double major and HCI master's candidate.

"I worked on a really fun YouTube product in a position that was perfect for my multidisciplinary designer/developer combo. Within the first few days I had already produced stuff currently used by the entire site — a great feeling."
 
And he'll continue to use his skill set in his future YouTube career.

"I'll be doing front-end development — a combination of design and coding to build features on the site," he said. "It fits in perfectly with my IS/HCI education."

At school, Yee also serves as a Google Student Ambassador, helping to run career fair events and help Google recruiters find "awesome CMU people."

And one of those awesome students is Maxwell Hawkins (CMU'13), currently enjoying his own YouTube internship, also working on front-end development.

"I'm loving it!" said Hawkins, an art and computer science major. "I chose YouTube because it's one of the most trafficked sites on the web. Any work I do will be seen by a broader population than I've ever worked with." Like Yee, Hawkins stated that, "one of the features I helped create is already being used by countless users."

And before starting his internship, Hawkins had another shocking opportunity to consider. A headhunter for Silicon Valley entrepreneur, Peter Thiel, had recruited him to join a new venture's founding team of engineers — during his junior year at CMU.

Hawkins' choice? To stay in school.

"A degree from Carnegie Mellon is worth its weight in gold in Silicon Valley," he explained.

"Besides, I have too much good work left to do here!" he added, with a particular nod to the Frank-Ratchye STUDIO for Creative Inquiry.

"I've always felt split between the creative and technical worlds. Here, I can work at the intersection of my two passions. I don't think there's another school in the world that has interdisciplinary programs quite like Carnegie Mellon's. It's truly unique."

Yee concurs.

"I've met so many really talented people that I've learned a lot from and been inspired by," he said. "I love how my peers are so good at what they do — it forces me to do my best."
Related Links: Dietrich College | Human-Computer Interaction Institute | Intercollege Degree Program | WSJ Article: Revenge of the Nerds | Business Insider Article: Poachable College Students
---