$1M Case Challenge Winners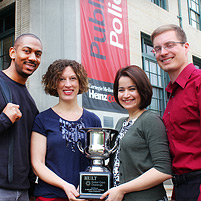 [l-r] Reggie Cox, Elizabeth Cullinan, Ketaki Desai, Tim Kelly
A team of Master of Public Management (MPM) students from Carnegie Mellon University's Heinz College recently won a $1 million global case competition.

The Hult Global Case Challenge is the world's largest international case competition.

The annual event with a prize of $1 million brings together thousands of the brightest college and university students from more than 130 countries to help solve key social challenges.

"I'm pleased to congratulate our Heinz College students on their success in the Hult competition," said Ramayya Krishnan, dean of CMU's Heinz College. "These students exemplify the multidisciplinary knowledge, teamwork and entrepreneurial spirit that is the hallmark of the CMU and Heinz College educational experience that is needed to help solve real-world problems."

The first round, held simultaneously in Boston, San Francisco, London, Dubai and Shanghai, convened 18 teams in each city to present solutions that address a growing problem in one of three challenge tracks — education, energy and housing.

A winner in each city was selected and, from there, the winning teams traveled to New York to compete for the ultimate prize.

The CMU Heinz College team competed in the education track against groups from some of the top management schools in the world, including Harvard, Yale and Columbia, among others. Read more about the winning tracks.

The students will use their portion of the $1 million prize to implement a solution they developed for One Laptop Per Child (OLPC), a non-profit organization dedicated to providing inexpensive laptops to children in developing nations.

"The multidisciplinary emphasis here at Heinz College is a differentiator," explained Ketaki Desai, who assembled the CMU team of fellow MPM students which included Reggie Cox, Elizabeth Cullinan and Tim Kelly. "The ability to bring together a team of students with a wide array of strengths in organizational management, financial analysis, design and technology, is a benefit afforded to us by the nature of the educational environment here."

Team member Elizabeth Cullinan is still reveling in the win.

"It felt amazing just to be selected for the regional round," said Cullinan, who works full-time while she completes the part-time MPM program. "But it's just starting to sink in that we won [a portion of] a million dollars to put toward implementing our concept."

Prize money aside, Reggie Cox feels the experience was eye-opening. "Being selected for this challenge, beating out thousands of other applicants, is an honor and a great opportunity for all of us," he said.

Looking back on the experience, Desai feels the team was adequately prepared and ready to compete.

"The environment here at CMU is so conducive to competitions like the Hult GCC," she said.

"As students we work in teams every day to create innovative solutions to pressing problems, whether it is in the classroom, across campus or in an international case competition."
Related Links: Hult Global Case Challenge | Heinz College | MPM Program | One Laptop Per Child | CMU and OLPC in Rwanda
---