I Got In!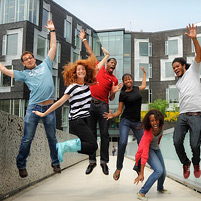 Whether they read it online or got the news through snail mail, students around the world were hooting, hollering and high-fiving about being admitted to Carnegie Mellon University.

"I was in shock. The feeling at that moment was unlike any other I had ever felt," said Ryan LaBarbera, who was accepted into the mechanical engineering program.

Our April 2012 yield by the numbers:
17,300 applicants
4,694 admitted
3,644 on the waiting list
A seat in the 2012 incoming freshmen class is so competitive that CMU admitted less than half of the high school valedictorians that applied and had to deny at least 10 applicants that had perfect SAT scores.

LaBarbera was first attracted to CMU because of its reputation, location close to home and the appeal that he has felt since he was young, visiting campus.

"It is difficult to choose any one thing I am looking forward to. I am eager to move in to my new dorm and meet new people, as well as going to class and tapping into all CMU has to offer," LaBarbera said.

Alekhya Jonnalagedda learned of her acceptance into the computational finance program when decisions were posted online at midnight.

"I jumped up and down with joy and proceeded to wake up all my neighbors," she gushed.
Jesse Mendelson also stayed up until decisions were posted online to find out if he got in.

"I was psyched when I saw I was accepted into the Tepper School of Business because I know what a great school it is," he said. "And when I told my parents and my sister, they were really happy for me. There were some high-fives all around."

Mendelson says he can see himself in ten, fifteen, twenty years being an executive at a company like Facebook or working on Wall Street or perhaps even creating his own company.

"Some of the things about the school that stood out to me were the professors' reputations, the school's small class size, the learning projects in the community, and the chance to interact with successful alumni," Mendelson said. "I think CMU will do a good job preparing me for whatever I choose to do."
 
Among the buzz on Twitter: "The first school I ever considered going to was Carnegie Mellon. Officially got accepted today!" and "Carnegie Mellon #accepted makes me so happy!"

The Tartan pride spread quickly to family members, too, as Twitterers boasted things like: "Guess I'll be getting some Carnegie Mellon attire …  #proudsister!"

Thinking about CMU yourself? Come take a Pittsburgh campus tour. Or, better yet, consider registering for Sleeping Bag Weekend, recommends Mike Steidel, CMU's director of undergraduate admission.

"There's no doubt I think it's the best way to check out the university. Having an extended stay and really learning about the community from the people who make it what it really is, there's just no substitute for that," Steidel said.

LaBarbera, Jonnalagedda and Mendelson are among the 1,425 students that will have made their decision to enroll by May 1 to begin their CMU journey this fall.
Related Links: Undergraduate Admission | Traditions at CMU | About CMU | CMU Alumni [video]
---