Congrats, Class of 2012!
Watch Patrick Wilson's keynote address to grads
Watch student speaker Caroline Kessler's address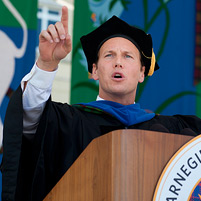 Keynote speaker Patrick Wilson
Friends and families from around the globe converged on Carnegie Mellon University's Pittsburgh campus this weekend for its 115th Commencement in Gesling Stadium.

Nearly 4,000 undergraduate and graduate student degrees were conferred at this main ceremony.

And graduates should be confident as they enter the 'real world' — a CMU education has consistently shown its value.
According to a 2011 report [.pdf] from CMU's Career & Professional Development Center (CPDC), the average starting salary for a CMU undergrad is $20,000 higher than the national average. And last year, our sought-after undergrads landed jobs at companies like Microsoft, Google and Facebook.
Though 2012 data isn't in yet, the CPDC expects more of the same.
CMU alumnus Patrick Wilson (A'95), a critically acclaimed, award-winning actor gave the keynote address to the graduates.
"I'm honored to be here because there is no other school in the country like Carnegie Mellon University. No other school that is continually and profoundly changing the world with its breakthroughs in science, technology and the arts," Wilson said.
With equal parts humor and poignancy, he advised graduates to live in the moment rather than worry about what is going to happen tomorrow.

Wilson, who has deep roots at CMU, was most recently seen in Paramount Pictures' Young Adult and also starring in the CBS drama, A Gifted Man. He has been a trustee of the university since 2009 and serves on its Education Affairs and Enrollment Committee.
His continuing dedication to the university, and his demonstrated pride as a member of the university community, has helped generate even broader awareness of CMU.

He is married to actress Dagmara Dominczyk (A'98), who is also a CMU School of Drama graduate.

Joining Wilson on stage at commencement was Caroline Kessler, a December 2011 graduate of the Dietrich College of Humanities and Social Sciences with a creative writing major and religious studies minor.
Kessler described the typical CMU student as atypical, defying normal and accomplishing remarkable things.
 
"We are critical thinkers, builders, debaters, artists, travelers and storytellers," Kessler said. "We take what we've learned here to make the world a little better than how we found it."
Cohon closed the ceremony by pointing out that as much as the university has changed over the decades, some values and elements specific to CMU culture — hard work, collaborative problem-solving and innovation — were as much at the core of Carnegie Tech as they are today at CMU. And it's those characteristics that make CMU graduates unique.
 
"I don't know if you're feeling special right now, but you should be. You navigated one of the most challenging programs of its kind and you succeeded," said Cohon.
It's a CMU tradition to award honorary degrees at commencement to exemplary leaders, whose life and work serve as an inspiration for CMU students, faculty and staff. The diversity of this year's candidates represents the intersection of art and technology, a university hallmark.

Recipients of the honorary degrees were:
Renée Fleming, the famed soprano and Grammy Award winner, will receive a Doctor of Fine Arts.
Temple Grandin, whose achievements as an autistic child and young woman were the subject of an HBO film, will be awarded a Doctor of Science and Technology.
Ruth Gruber, a humanitarian whose heroism is celebrated in the 2010 documentary Ahead of Time, will receive a Doctor of Humane Letters.
Daniel Kahneman, who won the 2002 Nobel Prize in Economic Sciences, will be presented with a Doctor of Business Practice.
Richard P. Simmons, chairman of the board, emeritus, of Allegheny Technologies Incorporated and former CEO of Allegheny Ludlum, will receive a Doctor of Science and Technology.
Visit the commencement website for more information about the honorary degree recipients.
Related Links: Watch President Cohon's address on YouTube | Career & Professional Development Center
---