Spring Carnival
Spring Carnival 2012 Slideshow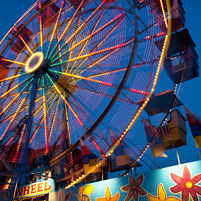 Whether you were cheering on the teams at Buggy, getting lost in the creative Booths, or catching a Scotch'n'Soda production, Spring Carnival & Reunion Weekend 2012 at Carnegie Mellon University had something for everyone.

Booths — designed and built by students and often reaching two stories in height — brought to life favorite "As Seen on TV" moments this year, including "Shark Week," "MythBusters," "The Price is Right," "SpongeBob SquarePants" and "Looney Tunes."
Winners included:
Sorority — Kappa Alpha Theta
Fraternity — Sigma Phi Epsilon
Independent — Asian Student Association
Read about all the winners in The Tartan.
Buggy — For the uninitiated, a "buggy" is an aerodynamic pushcart designed and built by student organizations. Each buggy holds a driver that steers and maneuvers around a 4,400-foot course. Just an inch off the ground, the buggies reach speeds of nearly 35 miles per hour. (see 90 years of Buggy in 90 Seconds) 
Each team includes five students who push a buggy in a relay-style race up hills and to the finish line. Student media organizations cmuTV and WRCT 88.3-FM streamed live event coverage from their websites.
This year, the rain held off for long enough to squeeze the women's finals run starting earlier than scheduled at 8 a.m.  A quick downpour doused the crowd waiting for the men's heats to begin, and sweepstakes called it.  SDC takes both the Men's and Women's crowns for 2012.
Reunions — CMU's Alumni Association welcomed the Class of 1962 to campus as they celebrated its milestone 50th reunion.

The Concert — The Activities Board Spring Concert on the lawn in front of the College of Fine Arts and Hunt Library concluded with a fireworks show.

Pittsburgh-based indie rock band Donora opened the concert, with electropop band Passion Pit as the headlining act.

Other Event Highlights — the Robotics Institute celebrated National Robotics Week with project demonstrations, lab tours, MOBOT Races, and a reception for current and former Robotics Institute alumni.

Scotch-n-Soda performed the musical within a comedy, "The Drowsy Chaperone." And lovers of historical fiction were treated to a trip through time as Ken Chu (HNZ'12) presented a discussion of costumes like the ones featured in the PBS Masterpiece series "Downton Abbey."

For a full list of events and event details, visit the Spring Carnival website and the Alumni Association's Carnival Schedule of Activities.
Related Links: Spring Carnival | Alumni Association's Schedule of Activities | Scotch'n'Soda | Spring Carnival playlist on YouTube
---