AIA Honors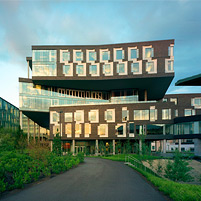 Gates and Hillman centers
Mack Scogin, architect of Carnegie Mellon University's Gates Center for Computer Science and Hillman Center for Future-Generation Technologies accepted the 2012 American Institute of Architects (AIA) Honor Award for Architecture at the AIA National Convention and Design Exposition in Washington, D.C.

Ralph Horgan, associate vice provost for Campus Design and Facility Development; Randal E. Bryant, dean of the School of Computer Science (SCS), and Guy Blelloch, professor of computer science, were also on hand for the awards ceremony at the Walter E. Washington Convention Center.

The Gates and Hillman centers, which opened in 2009, is one of just nine recipients worldwide of this year's Honor Awards, the architectural profession's highest recognition of works that exemplify excellence.

The centers, home to four SCS departments, were designed by Mack Scogin Merrill Elam Architects of Atlanta, Ga.

The buildings enclose 217,000 square feet of offices, classrooms and collaborative spaces in nine stories and straddle a terrain with variations in elevation of up to 75 feet. They also serve as a crossroads for the campus, with five main entrances on three levels and two major pedestrian bridges.

"The building not only matches the culture and aspirations of the school, but also provides campus connections that had been clearly missing before," the AIA jurors observed. "The fenestration and zinc exterior skin surprisingly relate beautifully to the campus fabric without being literal."

One of the pedestrian bridges, aptly named the Randy Pausch Memorial Bridge, serves as a physical connection between the School of Computer Science's newest building and the School of Drama's home — much as the late professor Pausch was an inspirational and intellectual connection between computer science and the arts.
   
In 2011, the Gates and Hillman centers were awarded LEED® certification at the Gold level established by the U.S. Green Building Council.

The award for the Gates and Hillman centers is the eighth National AIA Honor Award that Mack Scogin Merrill Elam Architects has received.

Earlier in May 2012, the firm also was awarded the National Design Award in Architecture from the Smithsonian's Cooper-Hewitt, National Design Museum. The Architecture Design Award is given to an individual or firm for exceptional and exemplary work in public, commercial, or residential architectural design.

Related Links: School of Computer Science | LEED Gold Certified
---