Voters Decide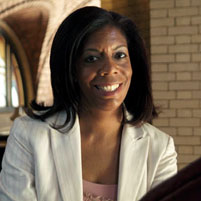 Professor Kiron Skinner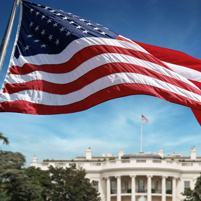 Many Americans watched the third and final presidential debate between President Barack Obama and Governor Mitt Romney on television.
But Carnegie Mellon University's Kiron Skinner, a renowned foreign policy expert, was there behind the scenes.
An associate professor of social and decision sciences, director of CMU's Center for International Relations and Politics and the university's national security policy adviser, Skinner says debates are a crucial part of the democratic process.
"We only have one nationally elected official and one opportunity to vote for one person to lead our country," she said. "Everything a candidate does in the public realm matters, but debates give voters a chance to see the candidates under pressure. They can hear how they articulate complex problems, get a sense of their grasp of the issues and form an impression about the candidates' personalities, characteristics and perspectives on world views."
Attending her first presidential debate caused Skinner to think more deeply about her own research — on international relations and political strategy — and how it fits into the national conversation.
"The debate provided a rare opportunity for scholarship to meet public policy," she said. "Scholars are becoming more involved in national politics and public policy. But, for our nation to remain a great power, to be truly energy independent and to balance our broad commitment in the Middle East and Indo-Pacific region, we need an interdisciplinary toolkit available to policy makers from which they can draw."
She continued, "It's not that public policy leaders have to be proficient in all of the disciplines—from the social sciences and humanities to computer science, business, engineering and others. Scholars, including myself and my colleagues at Carnegie Mellon and across the nation in my field, need to translate our scientific research into language that policy leaders can understand."
During the debate, Skinner watched the candidates intently and listened to campaign representatives around her craft their arguments.
"This election is about jobs and the future of America, but foreign policy is playing a special role," she said.
In her book titled The Strategy of Campaigning, Skinner and her co-authors examine the political strategies of Ronald Reagan and Boris Yeltsin — two principal political figures of their time, both of whom managed to overcome defeat early in their political careers.
Skinner offers even further insight into the two men, and into the events that ultimately led to communism's collapse, through her compilation of essays in Turning Points in Ending the Cold War.
Skinner watched the debate from the Romney spin room — an area where the media has access to campaign representatives after the debate. Following the debate, Skinner gave an interview to Al Jazeera English explaining Romney's foreign policy positions.
Related Links: Kiron's Page | Dietrich College of Humanities and Social Sciences | Social and Decision Sciences | Center for International Politics
---