President Cohon Honored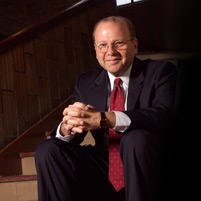 President Cohon
Carnegie Mellon University President Jared L. Cohon will be inducted into the American Academy of Arts and Sciences, one of the nation's most prestigious honorary societies. He is the 18th member from CMU to be elected to the Academy.

Election to the Academy is an honor for extraordinary accomplishment. Cohon is being recognized for his contributions and leadership in the field of education and society at large.

Current members include more than 250 Nobel laureates and more than 60 Pulitzer Prize winners.

In addition to Cohon, the new class of leaders from the category of educational, cultural and philanthropic organizations include Melinda F. Gates of the Bill and Melinda Gates Foundation.

Other notable members of the 2012 class span the categories of the arts, humanities, business, sciences, public affairs and journalism including:
Neil Simon, the Pulitzer Prize-winning playwright and screenwriter, film icon Mel Brooks, and conductor/composer Andre Previn
Business leaders like Amazon founder Jeffrey Bezos and retired Citigroup Chairman Sanford I. Weill
Foreign members including famed recording artist Paul McCartney
U.S. Secretary of State Hillary Rodham Clinton in the area of public affairs
Scientists like chemist James Fraser Stoddart, whose work helped establish the field of molecular nanotechnology, Robert P. Colwell, chief architect of Intel's Pentium microprocessors, and oncologist Brian Druker, whose research dramatically improved survival rates for leukemia patients
Founded in 1780, the Academy honors accomplished leaders from a variety of disciplines. Notable members from the pages of history span George Washington and Benjamin Franklin to Albert Einstein and Winston Churchill.

While a distinguished honorary society, the Academy is also a leading center for independent policy research, with members contributing to studies on topics from energy and global security to science and technology policy.

In addition to this Academy recognition, Cohon has been honored with election to the National Academy of Engineering in 2012 and as a distinguished member of the American Society of Civil Engineers — the society's highest accolade — in 2009.

Cohon has also been appointed by presidents George W. Bush and Barack Obama to the Homeland Security Advisory Council. His numerous awards include the National Engineering Award from the American Association of Engineering Societies in 2011 and the Carnegie Corporation of New York's Academic Leadership award in 2005.

The American Academy of Arts and Sciences ceremony will be held on October 6 at the Academy's headquarters in Cambridge, Massachusetts.
Related Links: Read the release | About President Cohon | CMU's Professional Society Members | Pittsburgh Post-Gazette article
---