New MBA Model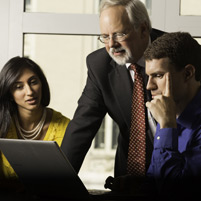 The Tepper School of Business at Carnegie Mellon University will offer its world-class MBA in a new blend of online and onsite formats beginning in the fall of 2013.

The FlexMBA program creates a new model for online business education. It combines in-person sessions, online classes and self-paced learning to deliver the same coursework, faculty, team interaction, personal leadership coaching and career services found in the school's highly-acclaimed full- and part-time MBA programs.

In contrast to current trends that are building increasingly larger online classes, the FlexMBA approach delivers the MBA program to focused sections of 20-30 students. They will interact frequently with faculty, alumni, school resources, and each other online and in person.

"The new FlexMBA model draws on our school's experience earned over nearly two decades of successful graduate-level distance-learning programs and combines that knowledge with our expertise in traditional full- and part-time MBA education," said Michael Trick, senior associate dean for education at the Tepper School.

"Maintaining quality and consistency across all our MBA delivery platforms is paramount," Trick added. "The flexibility of the FlexMBA format makes it convenient for students anywhere in North America to access our curriculum and faculty."

The 32-month FlexMBA curriculum will be delivered via an innovative combination of onsite and online channels.

Students will complete two courses each seven-week mini semester, which will begin and end during "Access Weekends." Access weekends are repeating three-day events that bring the students and faculty in a course together in a single location roughly every seven weeks.

The rest of the course will be delivered via weekly interactive live-video classes, supported by a variety of online self-paced learning activities during the week.

"By utilizing diversified channels, we will offer the flexibility of online education while maintaining the high-quality interaction of the MBA student experience found in our traditional programs," Trick said.

"Access Weekends will be an important channel to provide students with direct interaction with faculty, alumni, personal leadership coaches, career services and each other. Rotating the location of these weekends to different geographic areas also allows us to involve different alumni and industries and to further create a unique and valuable student experience."

Admission requirements for the FlexMBA program remain the same as for the Tepper School's full- and part-time MBA programs. The Tepper School is now accepting applications for the new Flex MBA program.
Related Links: Tepper School of Business
---