Mobile Solutions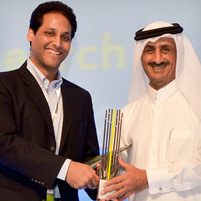 Imagine you're at a meeting and need to download a video on your phone. Instead of choosing between wireless and 3G, what if you could combine them to download the clip in half the time?

Or, what if you've written an email, hit the send button, but don't want to pay for it to go out through 3G? Maybe your smartphone could wait until you're connected to free Wi-Fi before mailing it out.

These are some of the technologies being developed by Khaled Harras, an assistant professor of computer science at Carnegie Mellon University in Qatar.

Harras' project, which is in collaboration with Egypt-Japan University of Science and Technology in Egypt, won the Best Computing and Information Technology Research Program at Qatar Foundation's third Annual Research Forum.

The award comes with a $100,000 prize for future research.

Harras' research, "OPERETTA: An Optimal Deployable Energy Efficient Bandwidth Aggregation System," builds on previous attempts to improve multi-interface mobile devices, such as smartphones, by allowing users to concurrently connect to the Internet in different ways, such as 3G, 4G, WiFi and Bluetooth.

Users now choose between interfaces based on factors such as speed, energy consumption and cost. But Harras' work would allow users to combine interfaces for optimal speed, or to choose 3G for a time-sensitive task while postponing another task until a cheaper option, such as Wi-Fi, opens up.

Even better, Harras says, no changes in existing infrastructure are necessary. In other words, OPERETTA tells YouTube how best to download a video rather than YouTube having to make changes to accommodate his technology.

Harras wasn't the only CMU researcher recognized at the Annual Research Forum, which took place at the Qatar National Convention Centre in October.

Dania Aded Rabbou, a 2012 graduate in computer science, received the Best Student Computing and Information Technology Research award and a $5,500 cash prize for a senior thesis project titled, "SCOUT: Extending the Reach of Social-Based Context-Aware Ubiquitous Systems.

How would you benefit from a mobile solution like this one? Leave a comment below, or visit us on Facebook or Twitter.
Photo: Khaled Harras (left) receiving his award from Faisal M. Al Suwaidi, President of Research and Development, Qatar Foundation
Related Links: Read more | CyLab Mobility | Master of Science Information Technology - Mobility | Carnegie Mellon University in Qatar | School of Computer Science
---