Entertainment Analytics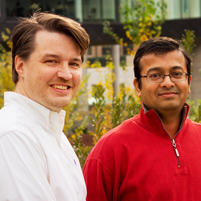 Michael Smith & Rahul Telang
Six Oscars, 95 Emmys and 24 Tonys — these are some of the prestigious performing arts awards that Carnegie Mellon University alumni have been honored with to-date. And it's just some of the ways CMU impacts the entertainment industry.

Now through CMU's innovative research, the university's influence on the industry extends even further — into the realm of business and the consumer.

CMU recently announced the creation of an interdisciplinary university-wide effort led by CMU's Heinz College — the Initiative for Digital Entertainment Analytics (IDEA). IDEA will conduct research into timely public policy and managerial questions raised by the emergence of digital distribution channels specific to entertainment content.

CMU's Heinz College professors Michael Smith and Rahul Telang will serve as co-directors of IDEA.

"The digital age has fundamentally changed how people consume and produce entertainment including movies, television, music and books," explained Smith, professor of information technology and marketing. "These industries now face the challenge of balancing the need to protect their content while also providing users with choices in consuming that content."

Rapid growth of the Internet and the proliferation of mobile devices have created new distribution opportunities in the industry and companies have scrambled to meet changes in consumer demand.

This, however, has also given rise to new business challenges from digital piracy networks, bringing issues of copyright, intellectual property and counterfeiting to the forefront.

"Our goal is to inform billion-dollar revenue streams for an industry experiencing rapid changes," added Telang, professor of information systems. "The research is heavily data driven, which can answer questions that are not only useful and important to business and policymakers, but can also create new methods and scientific knowledge."

The creation of IDEA was made possible through a gift from the Motion Picture Association of America (MPAA), allowing Smith and Telang to extend their groundbreaking research along with faculty from across the university, including the Tepper School of Business and the School of Computer Science.

"The MPAA was interested in CMU in part because of our unique strengths in the performing arts, computer science and technology, and management," noted Smith.
Related Links: Read the release | Heinz College | Tepper School of Business | School of Computer Science | School of Drama | CMU Performing Arts Awards
---