The New Gambler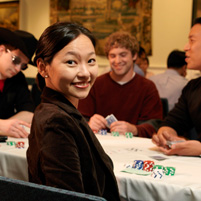 Ever played Texas Hold 'Em?
Well, a top-notch business school education could be more handy than a poker face, according to some alums of Carnegie Mellon University.
Quick cost-benefit calculations. Savvy recognition of an adversary's strengths and weaknesses. Rapid-fire decisions under considerable pressure.
All are helpful in both the board room and poker room, according to members of the Tepper School's Poker Club.
"The analytical skill sets of Tepper students are very advantageous in poker," said Peter Braendeholm, an MBA 2011 candidate and club president.
He would know.
Last year, Braendeholm was part of the 12-member team of Tepper School students who entered the MBA Poker Championships at Caesar's Palace in Las Vegas.
Of that number, members finished fifth and 12th overall. More than 600 competitors entered the tournament and its satellite events.
Brad Warga, vice president of talent acquisition for Harrah's, says the event offers an important recruiting opportunity for MBAs who want to join the gaming industry.
"MBA poker players tend to think quickly on their feet and be quite quantitatively apt — two attributes highly coveted by businesses," Warga said.
Braendeholm was last year's fifth-place finisher.
About 60 students are members of the club. For an annual membership fee, they get biweekly lessons as well as admission to regular on-campus tournaments where they play for bragging rights.
The club publishes members' point totals on its website, and subsidizes the Las Vegas tournament trip of top players based on their on-campus performance.
Some club members test their skills at Pittsburgh-area casinos. Others prefer the club's emphasis on applying equation-based strategy and risk analysis, for example, to better learn the game.
"A lot of people who have joined the club played in home games, and their playing ability is at the beginner level. Generally if you start going to play in cash games, it can get expensive," Braendeholm explained.
In addition to the social benefits, the club also explores the crossover between poker and business.
"Unlike chess or other perfect-information games, poker is a far closer kin to business school and the real world," said Philip Shing, the club's vice president of finance.
"In particular, the abilities to quickly make decisions based on limited information, quantify risk versus profit under uncertainty, and accurately assess interpersonal situations are the keystones to success in both business and poker."
Braendeholm agrees.
"When you're in business and negotiating, you're trying to figure out what the other person is trying to do and what they're thinking. There is a lot of strategy involved," he said.
Likewise, in poker, "it takes a lot of real-world experience to know the table and understand. It's learning about people and adjusting your game to the person that you're playing with."
Related Links: Tepper School
---