DNA Ethics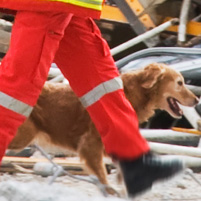 On a TV show like CSI or Without a Trace, a missing person case is typically solved within an hour.
But in the aftermath of conflict and disaster, families often wait months — even years — for information.  Many relatives never get the answers they so desperately seek.
These families face emotional, physical and psychosocial torment on top of the normal suffering that comes with losing a loved one.
"Some are forced into extremely difficult situations in order to feed their children and maintain their households," said CMU's Jay Aronson.
"Without proof of death, they also lack benefits and access to social services. Further, in the absence of a body, they are unable to perform appropriate burial rituals, which is highly problematic in almost all cultures including our own."
Aronson is an associate professor of science, technology and society in CMU's Department of History.
Forensic DNA profiling has become a standard tool in the search for missing people in the aftermath of mass violence and disaster.
But until now, little effort has been made to identify and analyze the ethical and policy challenges associated with this new use of genetic technology.
The National Institutes of Health (NIH) awarded Carnegie Mellon University a three-year, $1.2 million grant to analyze these challenges and develop recommended practices.
For example, how much time and money should be devoted to identifying missing people in the face of many competing priorities?
And who owns and controls the biological information that is collected during the identification process?
"Over the past two decades, it has become increasingly clear that identifying missing people and returning their remains to families can be a crucial step in the reconstruction of societies recovering from mass violence or mass disaster," said Jay Aronson.
"Yet, reattaching a name to a body is only the beginning of the healing process for families and communities that have suffered great loss," he said.
He explained, "The identification process does not automatically encourage reconciliation or a return to normalcy without appropriate attention to political, economic, cultural and legal issues. If not done carefully it can even lead to increased emotional suffering on the part of relatives of the missing or a return to conflict and chaos."
Aronson and anthropologist Sarah Wagner of the University of North Carolina at Greensboro will lead the team of researchers from Carnegie Mellon, Stanford University, the University of Pittsburgh and UCLA.
In September, CMU will host a workshop on the subject. It will bring the research team together with identification practitioners, social scientists and bioethicists led by Alex John London, associate professor of philosophy at CMU.
"It's important that we have the experts who work in the field talk to us so we can understand what information will be most useful to their daily work," Aronson said.
A phase of the project will involve the research team conducting interviews, oral histories and ethnographic and archival research in various settings.
New York City, Louisiana, Argentina, Bosnia and Herzegovina, Chile, Guatemala, Iraq, Peru, South Africa and Thailand are on the list.
The team also will examine the U.S. military's efforts to recover and identify missing soldiers from the Vietnam War.
"People in the aftermath of conflict and disaster need basic things like food and shelter," Aronson said.
"We want to find out from an ethical and policy standpoint what else we owe people who lose family members and how those factors ought to be prioritized. These have all been understudied problems until now."
Related Links: College of Humanities & Social Sciences | NIH
---