Concerning Privacy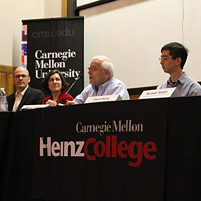 It's all harmless, right? 
Putting your birth date on Facebook. Posting the party pics. Becoming the mayor of your local coffee shop on FourSquare.
Experts at Carnegie Mellon University would tend to disagree.
In today's thoroughly digitized world, personal identities, locations and actions are stored as incremental pieces of data. More connections and links are being made with this data every day.
The government is even buying the data and using it in the war on terror. So consider the consequences to individuals if it's inaccurate.
An overflow crowd recently packed Heinz College's auditorium to hear a panel discussion featuring some of the university's most prominent privacy researchers.
"Students today may reveal something online that sometimes they don't realize could still be available and used years later, say, when they run for office or apply for a job," said CMU's Alessandro Acquisti.

Moderated by Acquisti — an associate professor of information and public policy and CyLab researcher — the panel featured Travis Breaux, and CyLab researchers Lorrie Cranor, Steve Feinberg, Jason Hong and Norman Sadeh.
Their expertise ranges from technical aspects — such as international privacy law and policies — to user behavioral tendencies — such as patterns of location sharing.
"The panel showed how multifaceted of a concept privacy is, how it interests scholars from the disciplines of economics, decision making, law, policy, computer science and statistics," explained Laura Brandimarte, a Ph.D. candidate in Heinz College.
Lorrie Cranor, director of CMU's Cylab Usable Privacy and Security Laboratory (CUPS), agrees.
"The interdisciplinary collaboration at CMU is why we're able to do such interesting work in this field," said Cranor.
She added, "We're looking at ways to help you protect your privacy and not regret what you're doing."
While Cranor acknowledges technology is ahead of the laws in this area, she remains optimistic, even noting an emerging market for "personal brand management."
Prior to the event, attendees were invited to discuss research findings with the scholars at a poster fair outside the auditorium.
Among them was Jialiu Lin a doctoral student in CMU's Mobile Commerce Lab. A desire to raise awareness about privacy issues is what drives her.
She is working to develop technology that will provide the most utility along with the highest comfort level.
"We want to encourage people to share with those they want to stay connected to," she said, "and we want them to feel secure while doing that."

Related Links: Studying the Behavior of Privacy | CyLab Usable Privacy & Security Lab | Heinz College
---