Career Central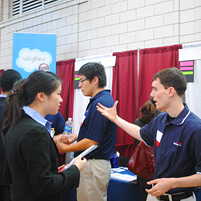 As the school year gears up, the recruiting season kicks off with Carnegie Mellon University's Career Week.

Beginning Sept. 19, three consecutive fairs provided a week of opportunity for students, alumni, and employers from every discipline.

CMU's Career and Professional Development Center (CPDC)  hosted a broadly focused employment opportunities fair in partnership with two fairs that serve the technical and business sectors.

"More than 300 employers, 4,000 students and alumni participated in Career Week," said Farouk Dey, director of the CPDC. "We believe that your career shouldn't have to equal your major."

He added, "Our mission is to empower students and alumni to optimize their potential. Career development is no longer a linear approach. It shifts and turns and we're here to support that."

Career Week has served as an integral part of the campus recruiting process.

"It's often the first opportunity for students and alumni to have that initial face-to-face contact with employers, to begin developing a relationship," explained Wesley Thorne, the CPDC's associate director for employer relations.

"And the CPDC has a number of programs and workshops that are specifically designed to ready them."
Students and alumni took part in more than 2,300 interviews throughout the week.
Added Dey, "Carnegie Mellon attracts amazing employment opportunities from a variety of sectors. It's not uncommon for our students, by the end of spring, to have three to four offers in hand."

Those offers can translate into above-average salaries. The mean entry-level salary for CMU 2011 graduates is $71,245 - 40 percent higher than the national average of $51,018 for 2011 college graduates (according to the National Association for Colleges and Employers).

Bhargav Bhat (E, TPR'08) is excited to be pursuing his career at Vistaprint, thanks to the help he received from the CPDC. As a lead analyst working with the online printing company's marketing analytics, he's able to combine both his technical and business interests.

"The support resources of the CPDC were hugely helpful," said Bhat. "Not only in connecting with Vistaprint, a rapidly growing, e-commerce company, but also in writing an effective resume and learning interview techniques."

The CPDC is a team-based center, with specialized staff focusing on the unique needs of students in each of CMU's seven schools and colleges. Alums can also find much-needed support, as all services are available and free of charge. Through a collaboration with Heinz Career Services and the Alumni Association, programming has recently been expanded to include six networking events in locations all across the country.

Said Dey and Thorne,"Our vision is to be the high-touch, high-tech career center."
Related Links: CPDC | Technology Fair | CPDC on Facebook | CPDC on Twitter
---