Writing Right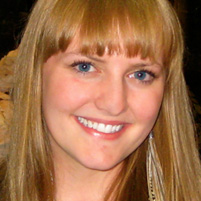 Mackenzie Evan Smith loves to write.
As a student at Carnegie Mellon University, she has found it's the best way she knows to express her love of life, sense of adventure, and curiosity about the world around her.
And it's fun, she says.
"I've always loved listening to stories and learning to share my stories with readers is an exciting challenge," said Smith.
Smith will soon have plenty of new stories to share. She has won a prestigious
Henry Luce Foundation Scholarship
.
A
creative writing major
in the
Department of English
, she was one of 18 students and young professionals chosen to participate in the
Luce Scholars Program
.
The initiative enables students to increase their knowledge and awareness of Asia by living and working in an Asian country of their choice.
"I'd like to spark readers' interest in something new and challenging—something that provokes new ideas, new adventures," she said.
Smith chose the creative writing program at CMU because she wanted to learn in a workshop-style environment where the professors are both accomplished writers and passionate educators.
"I couldn't be happier with my choice," she said.
"The creative writing faculty at Carnegie Mellon constantly amazes me. I am so fortunate to be in a place where the professors continually publish great writing while challenging their students to do the same."
Jennifer Keating-Miller and Stephanie Wallach worked very closely with Smith on every aspect of her Luce application, from the very beginning to the final interview stage.
Keating-Miller is assistant director of
CMU's Fellowships and Scholarships Office (FSO)
. Wallach is assistant vice provost for undergraduate education.
 According to Wallach, Smith stood out as a remarkable young woman.       
"Mackenzie is smart, adventuresome, creative, motivated and a great deal of fun," Wallach said.
"She is a real representative of the diverse talents that characterize our Carnegie Mellon undergraduates."        
Related Links: Blog: The Naked Notetaker | Read Press Release | Henry Luce Foundation Scholarship | Dept of English
---