Work Wanted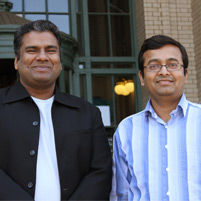 Heinz College's Rajiv Garg and Rahul Telang
Much has been said about the power of social networks.
But can relationships made through Facebook, Twitter and LinkedIn benefit job seekers?
New research emerging from Carnegie Mellon University's Heinz College indicates the answer: a resounding yes.
Heinz College's Rajiv Garg and Rahul Telang — along with executives from the L.A.-based human resources consulting firm TTG Consultants — conducted an in-depth study.
Their results are published in the corresponding findings paper, Job Search on Online Social Networks.
The research team surveyed recently unemployed individuals actively seeking employment. They found social ties play a significant role in helping these individuals land new career opportunities.
"Our findings suggest that LinkedIn.com, the social network designed for establishing professional relationships, provides a relatively higher outcome return for job seekers," said Garg, who is finishing his fourth year in Heinz College's Ph.D. program.
The team's research relies on past research findings that examine the strength of social ties and their ability to relay information. They found that both strong and weak ties impact a job seeker's ability to receive job leads.
"Social media has changed the way things are done on the Internet, and the issue has really become relevance of information," Garg said.
"Social ties, either weak or strong, diffuse relevant information but differ in the type of information diffused. Weak ties help in finding job leads and strong ties help in converting leads to job interviews or offers."
When it comes to job leads, the researchers found the benefit of online social networks to be higher than in-person relationships such as friends and family, job placement agencies or print media.
The team adds, though, that job placement agencies had the highest conversion rate from leads to interviews.
"Generally speaking, it is well known that social networks matter," said Telang, a professor of information systems and economics at Heinz College and advisor to the research team.
"Online social networks reduce uncertainty, as well as the cost of maintaining professional relationships, which in today's technological and economic environments greatly impact the effectiveness of an individual's job search," he said.
Related Links: About the Study | Heinz College | CMU on Facebook | Follow CMU on Twitter
---