Programming a Future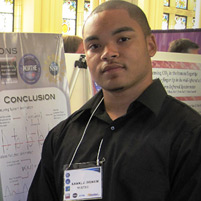 Kamal Ibrahim is a firm believer that everything happens for a reason.
But make no mistake — he hasn't stood idly by.
With graduation just days away, Ibrahim reflects on how he made the most out of every opportunity that came his way during his four years at Carnegie Mellon University.
"One thing I've learned is it's the effort that you put into your work that matters. That's what CMU really teaches you, that you just have to work hard, no matter what it is," Ibrahim said.
As an intern in the credit risk department at PNC Bank, he used his mathematical training to help upper-level management and systems engineers create new technology.
The technology will allow the bank to keep track of and assess credit risk while complying with new government mandates.
Originally hired only for the summer, Ibrahim continued his internship through his senior year. He wanted to learn about the inner-workings of corporate technology as he geared up to start working full time.
Meanwhile, he also explored two other internships. Both were at Princeton and related to his field of study.
"When I had a few internship options, I did them all," said Ibrahim.
While he says he knows it sounds crazy, it was a part of getting the most out of his college experience.
"I've taken classes in almost every discipline — except music. I'm not even a little bit good at music," he joked.
Beyond the classroom, Ibrahim also stayed deeply involved in campus life.
He is an Andrew Carnegie Society Scholar, the vice president of the Alpha Phi Alpha fraternity, and the fundraising chair of the National Society of Black Engineers, among other activities.
With graduation upon him, Ibrahim looks back at his experiences at CMU as "one big turning point."
"What CMU really is — at its core — is this mix where students have the option to do everything. I've learned that you just have to work hard, and you can do anything."
He credits much of his success to his professors. Two tie for the lead as his favorite.

"Jim Roberts of my introductory computer programming course made sure he put the students before the course, and kept his material interesting," he said.
"And John Mackey, who taught several of my math courses, is someone you look forward to seeing every day.  He makes students excited about math."
Ibrahim ultimately hopes to give back to communities in need, focusing specifically on public high school and community leadership programs.
It's a dream with deep personal roots, having navigated the challenging waters of the Harlem Public Schools (read the NY Daily News story).
"I really want to help provide a path where young potential leaders can grow and mature their abilities," he explained.
"I keep the dream on the forefront of my mind.  It serves as the reason for many of my actions."
Related Links: Andrew Carnegie Society Scholars
---