Hear Me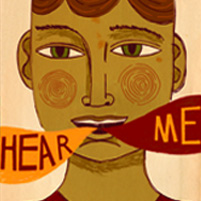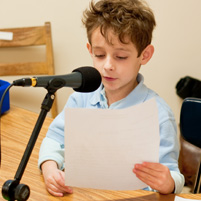 'Hearing' children might bring to mind laughter, whining or simply noise. But kids have something more to say.
"Children have opinions and concerns about the world, just like any adult, and we often overlook this," explained alumnus Paul Dille, a research programmer at Carnegie Mellon University's CREATE Lab.
"The Hear Me project aims to get their voices heard by a greater audience, using existing technologies."
The CREATE — Community Robotics, Education and Technology Empowerment — lab is housed at CMU's Robotics Institute. The lab is committed to empowering the larger community through the use of technology.
With Hear Me, children from more than 25 school districts in Western Pennsylvania can express themselves through writing, drawing and audio interviews.
Dille says listening to kids lets them know they're valued, positively impacting their development and learning.
Their stories are uploaded to the Tell-Port, the project's digital web-archive and online tool for teachers where anybody can tune in.
Topics can include anything from a preschooler's musings on monkeys to older children's comments on the impact of bullying, dating violence, neighborhood safety, or health and nutrition.
Listen to Latayah's story about her transition to seventh grade

Listen to Sammyah's story about being bullied in third grade.
"Teachers are also empowered to create unique and interesting ways to collect stories and get children involved in the community and the world around them," added Dille.
In conjunction with the Tell-Port, the stories are available through Story Boxes and Can Boxes installed in locations around the city - like the Children's Museum of Pittsburgh.
Kids can also enjoy 'Can Pals.' With these, a classroom records onto high-tech 'tin cans' to share stories with another participating class.
Dille began working with CREATE as an intern while still a CMU student. He liked it so much, he never left.
Along with Hear Me, Dille is involved with CREATE's ChargeCar and GigaPan Time Machine projects.
"ChargeCar aims at rethinking the problem of making electric vehicles practical and affordable enough to revolutionize urban commuting," Dille explained.
And GigaPan Time Machine, recently made public, essentially allows a viewer to zoom and pan into an amazingly high-resolution movie while it's playing — backward or forward. The technology allows scientists to explore large amounts of data in ways never before possible.
Dille credits his CMU experience with affording him such terrific opportunities.
"CMU is unique in the sense that it is a place where great minds have come together to do big things," noted Dille, a 2010 graduate of the university's School of Humanities and Social Sciences.
"Not only does CMU have outstanding engineering and computer science programs, but it also has a great humanities program," emphasizes Dille, who studied in the Information Systems program.
"The CREATE Lab is a perfect example of how all these great minds have come together to make the world a better place."

Related Links: Hear Me | Tell-Port | CREATE Lab
---