Congrats, Grads!
Student commencement speaker Alia Poonawala
Commencement speaker Aron Ralston
Commencement photo slideshow on Flickr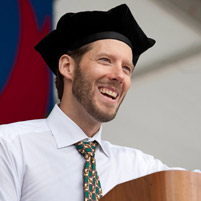 Aron Ralston
Carnegie Mellon University's commencement drew visitors from around the globe, celebrating the successes — and promising futures — of our newest graduates.
President Jared L. Cohon conferred degrees upon more than 4,000 students at our 114th Commencement Ceremony, Sunday, May 15, 2011.
One of those grads: student commencement speaker Alia Poonawala, who graduated with a Bachelor of Science and Arts in Biological Sciences and Drama with a minor in Biomedical Engineering.
She's mixing arts and sciences in a big way. That's pure CMU.
And Alia wasn't the only one with a story to tell. An inspiring alumnus came back to his alma mater, armed with advice.
Aron Ralston (E'97), whose heroic story of survival is the subject of the film "127 Hours," gave the keynote address.
Pinned by a half-ton boulder in a Utah canyon for nearly a week, Ralston had to choose between his hand and his life.
"Stuck in the bottom of a hole in the most remote desert in the entire United States, I actually turned to the analytical problem-solving skills that I forged here at CMU," Ralston said.
Ralston chose survival — amputating his own limb, rappelling 65 feet and hiking seven miles to rescue.
"Yes, it hurt... But I did not lose anything that day. I only gained from that experience a sense of what's important to me, of what's possible for me, of what's extraordinary in me," he explained.
"And as for that guarantee, it's true — you will have adversity," he told the graduates. "But be grateful for it. Because that adversity will show you that there is something absolutely extraordinary in each and every one of you."
CMU's commencement also featured the presentation of eight honorary degrees:
Craig R. Barrett: Retired chief executive officer and chairman of the board of Intel Corporation
Steven Bochco (A'66): Legendary Hollywood producer (NYPD Blue, L.A. Law, among others)
Chip Ganassi: Owner of Chip Ganassi Racing Teams Inc. and a fixture in the auto racing industry
Richard (Rick) Rashid: Senior vice president for Microsoft Research and former professor at CMU
Dr. David Servan-Schreiber (CS'89,'90): Clinical professor of psychiatry at the University of Pittsburgh; diagnosed with cancer at age 31 and authored "Anticancer: A New Way of Life"
Rafael Rangel Sostmann: President of the Tecnológico de Monterrey System, a private, non-profit institution with four educational and research arms
David S. Steiner (E'51): Real estate developer and chairman of Steiner Equities Group, LLC.
Oliver Williamson (TPR'63): 2009 Nobel Laureate in Economic Sciences and the Edgar F. Kaiser Professor Emeritus of Business, Economics and Law at the University of California, Berkeley
Also during the ceremony, President Cohon announced that alumnus Jonathan Kaplan, along with his wife Marci Glazer, established the Open Field Entrepreneurs Fund (OFEF) at CMU.
The fund will provide early-stage business financing to alumni who have graduated from CMU within the past five years.
Jonathan is no stranger to entrepreneurism. He revolutionized online video-sharing with his creation of the Flip video camera.
Related Links: About Aron Ralston's 127 Hours | GigaPan of Commencement | Watch: Student commencement speaker Alia Poonawala | Watch: Commencement speaker Aron Ralston | Watch: Commencement photo slideshow
---