Rare Opportunity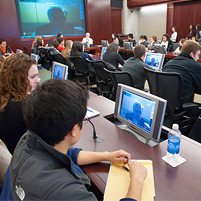 Have you ever wanted to ask a presidential candidate a question? Not just a typical campaign question on plans to create jobs or the economy, but a specific question on anything that you'd like?

Students in Carnegie Mellon University professor Kiron Skinner's class — International Relations and Politics majors, Innovation, Entrepreneurship, and Economic Development minors, and the research associates of the Center for International Relations and Politics (CIRP) — had exactly that opportunity four times over, with special question and answer sessions with former Speaker of the House and current presidential candidate Newt Gingrich, former Secretary of Defense Donald Rumsfeld and two former congresswomen.
 
"It was a huge honor to have four world leaders, who's policy decisions have had an impact on our lives and the world, take time out of their extremely busy schedules to talk with our students," said Skinner, associate professor of social and decision sciences and director of CIRP.

The special events began with Gingrich Skyping into Skinner's Decision Processes in American Political Institutions class. Hot on the campaign trail, Gingrich talked to the students for 45 minutes about everything from Medicare fraud to his foreign policy plans for North Korea and South Korea and intellectual property issues.

Kavita Varadarajan (HS'14), an international relations major, asked Gingrich about how he plans to promote bipartisanship and cooperation if elected.

"He talked about what he would do and how important it is, but I'm not sure how feasible his plans are," sad Varadarajan. "Overall, he seems very knowledgeable, and it was an amazing experience — given that it's such a competitive campaign and every minute of his time is so valuable."

Former congresswomen Beverly Byron (D-MD) and Sue Kelly (R-NY) also spent two and a half days visiting with Skinner's students as part of the Congress to Campus Program. They spoke about how they came to be members of the House of Representatives — Byron because her candidate husband unexpectedly died and Kelly because she was not satisfied with her district's candidate options — and running for and serving in office.

"There is so much adverse publicity out there on the government, so this is a way of trying to encourage young people to be interested in public office," said Byron, who's signature legislation involved heath care for military families.

Kelly, who served on committees focusing on banking and medical laws, continued, "We're adding our perspective on what the job is really about — the challenges and the fun."

According to both women, the biggest challenge in politics today is getting qualified people to consider running for office. They blame the media.

"The way the press describes certain things — they are so vicious. It discourages people from even thinking about running for office," said Kelly.

The whirlwind of events ended with Rumsfeld using Skype to answer questions from Skinner's students, graduate students in the Masters in Information Technology Strategy Program and Winchester Thurston high school students. The often controversial Rumsfeld, who served four different presidential administrations — Nixon, Ford, Reagan and G. W. Bush, answered questions ranging from rating the Obama administration and defense budget issues to China and the current GOP presidential candidates.

Reflecting on his nearly five decades of public service, Rumsfeld offered advice on how to be an effective senior government official.

"Lead by persuasion," he said. "Experience is an enormous advantage, and so is getting other people's perspectives, finding the very best people for each assignment and setting priorities."
Related Links: Dietrich College of Humanities and Social Sciences | CIRP | Social and Decision Sciences | Congress to Campus
---