Legacy Lives On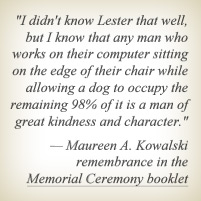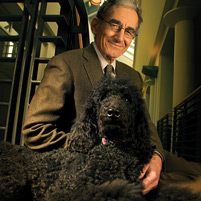 Lester Lave and Coco
Family, friends and the campus community united to remember beloved professor Lester Lave, a visionary researcher and treasured icon of Carnegie Mellon University.

One of the nation's leading environmental economists, Lave died at his home in Pittsburgh, May 9, 2011, after a four-month struggle with cancer. He was 71. 
     
Lave was a University Professor — the highest distinction a faculty member can achieve at Carnegie Mellon — the Harry B. and James H. Higgins Professor of Economics at the Tepper School of Business, professor of engineering and public policy, director of the Green Design Institute and co-director of the Carnegie Mellon Electricity Industry Center. 
     
"Lester Lave was an icon at Carnegie Mellon, where he had achieved the highest plateaus in scholarship and friendship," said Mark S. Kamlet, provost and executive vice president at Carnegie Mellon.

"His work transcended many fields, most notably in areas of risk, the environment and economic decision making. The world has been changed by his work; a claim that not many can make. A multitude of friends worldwide are left behind but his work continues through these same colleagues and friends, as well as his former students."
     
"Lester was a remarkable professor, researcher and colleague," said Robert M. Dammon, dean of the Tepper school of Business.

"He was a beloved teacher and a prolific scholar, admired by his students, academic peers and policy-makers. He created a body of meaningful research, placing him among the world's most respected thought-leaders on global energy issues and public policy.
     
"He was a trailblazer at Carnegie Mellon, deepening and expanding collaboration across the university campus. His work brought together outstanding individuals from many different academic disciplines and is an inspiration to his students and colleagues," Dammon said.
    
Lave spent most of his career at Carnegie Mellon applying tools developed in economics and risk analysis to problems that profoundly affect the lives of millions of people.

Lave first came to international prominence in the 1970s when, together with his student Eugene Seskin, he used statistical methods to demonstrate that air pollution in American cities was causing a significant increase in death rates.

While these results were vigorously contested by industry when they first appeared, the findings have been widely supported by subsequent research, and they served as a key early basis for EPA regulations to improve air quality. 
    
Lave had an outstanding ability to choose important problems, perform careful analysis, and present results that questioned conventional wisdom.

Much of Lave's research focused on the problems of balancing environmental and other risks with economic and other social objectives.

Global climate change, dam safety, truck drivers who have diabetes, and the environmental effects of fuel additives were but a few of the topics addressed in research by Lave and his students.
     
"Throughout his career, Professor Lave has made substantial contributions to advancing environmental science, policy and regulator approaches in the United States and worldwide," said David A. Dzombak, the Walter J. Blenko Sr. Professor of Civil and Environmental Engineering and faculty director of Carnegie Mellon's Steinbrenner Institute of Environmental Education and Research.

"In addition to using his powerful intellect, creativity and communication skills to make research contributions, he has used these same gifts to bring research developments and new thinking about environmental stewardship to the public realm."

Lave's legacy will be honored by the establishment of a professorship in economics, engineering and public policy, and a fellowship for doctoral studies on innovative areas in economics, public policy and engineering at CMU.
Related Links: Press Release: Lave Legacy | Obituary | Tepper School of Business | Engineering & Public Policy | Green Design Institute | Electricity Industry Center | Memorial Ceremony booklet [.pdf]
---